Wildlife field staff and SLF workers trained in handling of injured, orphaned wild animals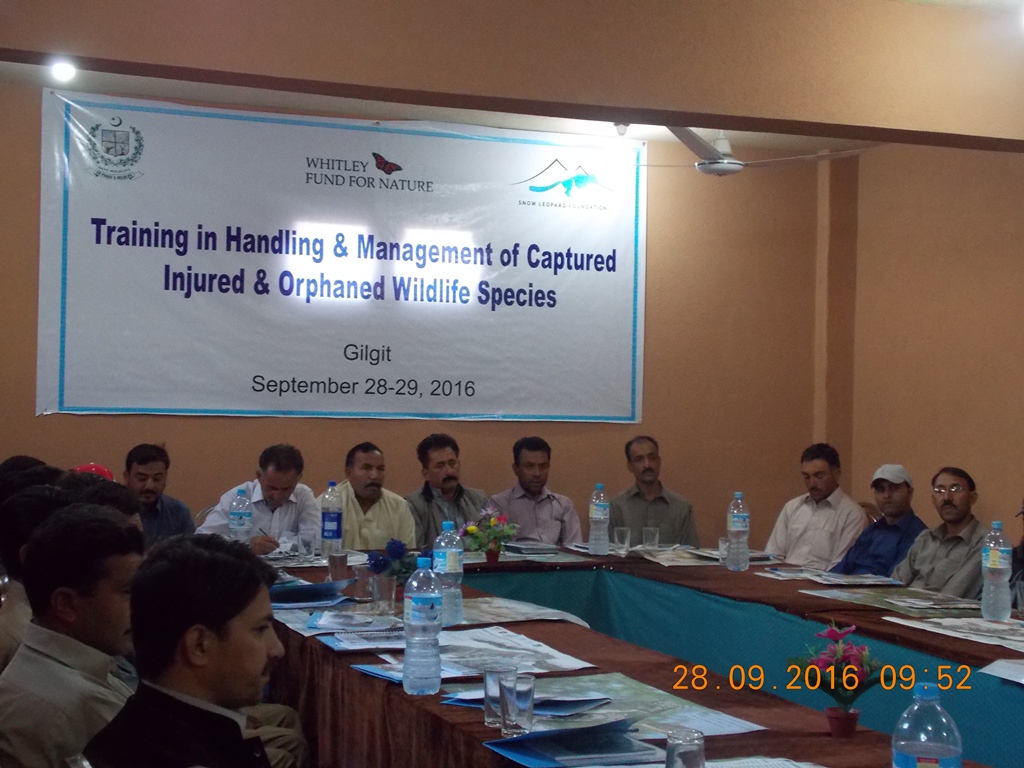 Gilgit: (PR) Snow Leopard Foundation Pakistan (SLF) organized two days training in Handling and Management of injured & Orphaned Wildlife species for Wildlife field staff and Eco Health Workers of SLF, on 28th to 29th September 2016 at Capital Lodge Hotel Gilgit.
Mr. Ghulam Mohammad Conservator Wildlife & Parks Gilgit-Baltistan graced the opening session of the two days training as the Chief Guest. In his address he appreciated the efforts of SLF for conservation of wildlife in general and carnivores in particular. He endorsed the vaccination model of SLF and considered it a successful tool to conserve snow leopard which convinced the herders to be part of the conservation of snow leopard.
Mr. Jaffar-ud-din Assistant Director SLF Pakistan thanked the chief guest and the participants for sparing their precious time. He also briefed the participants about SLF working mechanism and its components. He emphasized the participants to learn maximum by asking question as the trainer is expert in handling all kind of species and your time with him should be fruitful for your field days. Mohammad Younus Conservation Associate SLF Gilgit gave a brief presentation on main mammalian species of Gilgit-Baltistan and their distribution. Dr. Baber Saleem, Veterinary Officer Lahore Zoo Delivered a comprehensive training on the following modules:
Husbandry, nutrition and captive management of snow leopard and ungulates,
Neonatal care of orphaned/rescued wild cubs/fawns and lambs etc.,
Physical Restraining of large carnivores & ungulates,
Chemical immobilization and translocation of wild carnivores- Remote Drug Delivery System,
Basic Veterinary care and prophylactic medicine of large carnivores and ungulates.
He practically demonstrated preparing dart and use of dart gun by each participant.
Mr. Ijlal Ahmed DFO Wildlife Gilgit & Ghizer briefed the participants about Wildlife crime and law. He advise the field staff to enforce the Wild Act in its true spirit as the provincial government has authorized the wildlife field staff to check, arrest and fine the offender. The participants also appreciated SLF for arranging this important training and considered it very fruitful said that now we are able to provide first aid to any injured animal and can use dart gun if required. Mr. Ghulam Mohammad Conservator Parks & Wildlife was Chief Guest of the closing ceremony while DFO, AO, RFO of Wildlife Department Gilgit, Mr. Mayoor Khan, and Country Programme Manager Wildlife Conservation Society also attended the closing ceremony and distributed the certificated among the participants. During his closing remarks he thanked SLF for arranging such an important training for the Wildlife Field Staff. He further said that SLF and Wildlife & Parks Department GB will conduct such trainings in future too to boost the capacity of the staff for better handling rescued wildlife species.
Mr. Jaffar-ud-din Assistant Director SLF thanked the chief guest and other guests for sparing time from their busy schedule he also thanked Dr. Baber Saleem for his keen interest in delivering the training. At the end he thanked the participants whose interest made this training a success.