DC Hunza has failed to provide 50KVA generator to Gulmit Hospital despite Chief Secretary's instruction
---
GULMIT: Deputy Commissioner of Hunza has failed to provide a 50KV generator to the Gulmit Tehsil Headquarters Hospital despite written instructions given by Chief Secretary in May 2022.
Meanwhile, influential people and government offices are enjoying special lines and able to access electricity.
Without access to stable electricity, the Hospital is forced to operate in darkness due to continuous power failures in Gojal Valley. The medical equipment provided to the hospital is inoperable due to power shortage, said a hospital staff member, requesting anonymity, as he was not authorized to talk to the media.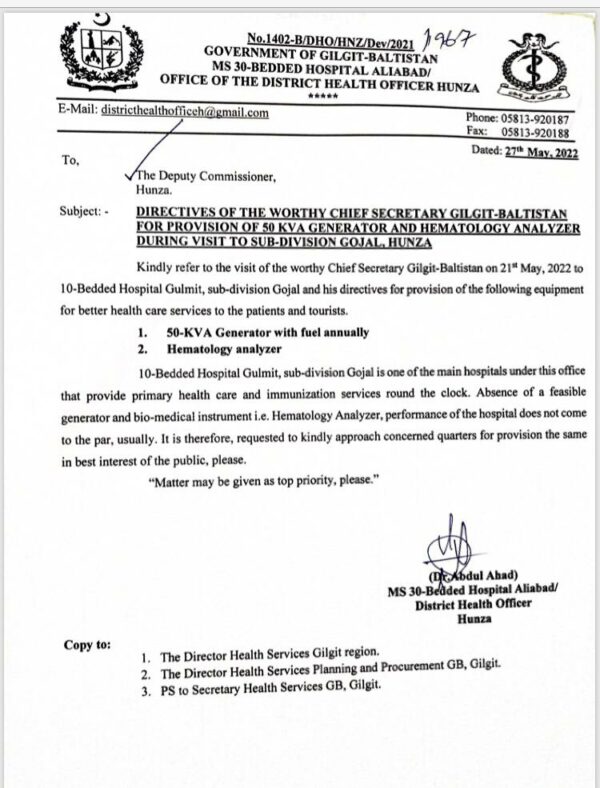 The staff member further said that the hospital has a single electricity line from Misgar Power House, despite directives from high officials to also connect the hospital with the Khyber power house through a separate line.
Hospital staff are forced to operate in darkness, while attendants hold torches"
It is pertinent to note that the Gulmit Hospital caters to a population of around 25000 people and is a major health facility in Gojal, which is geographically among the largest Sub-Division of Gilgit-Baltistan.