Compensation Unpaid: Strike to be observed in Gojal Valley on 18th November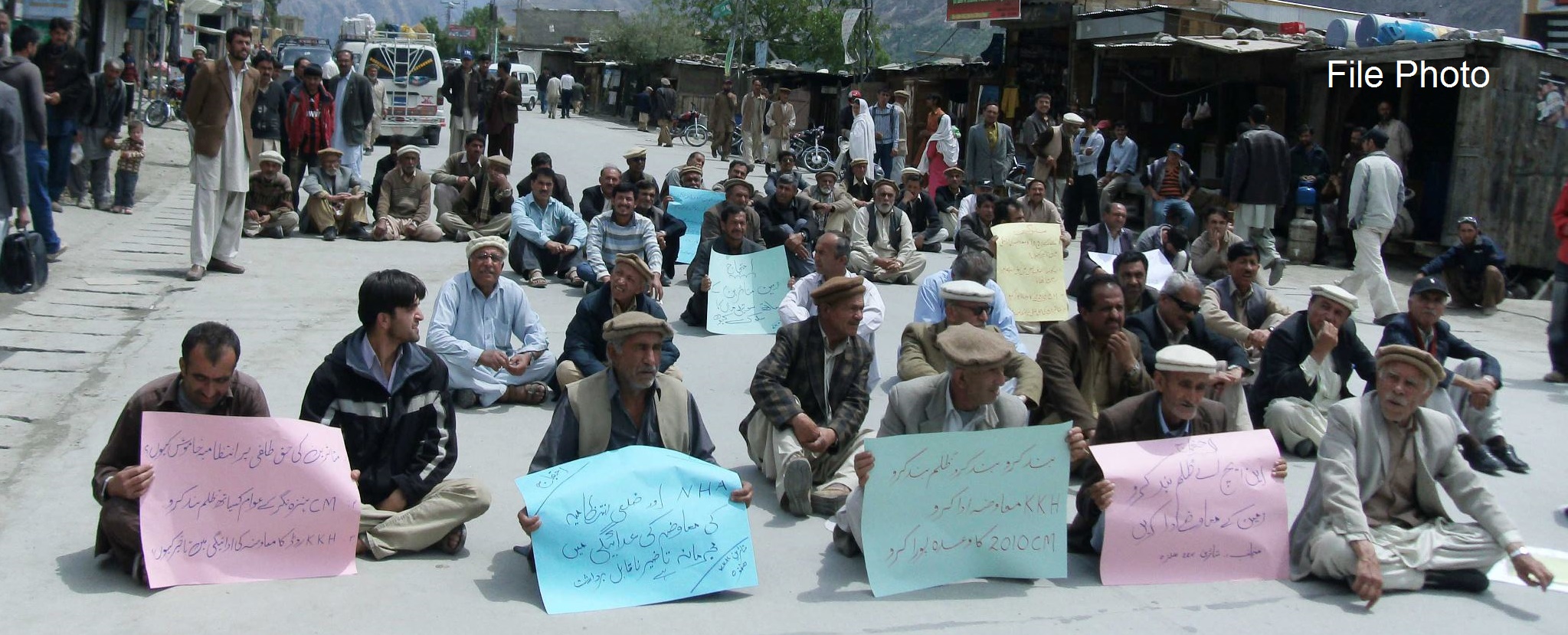 Hunza: People of the Gojal Valley in Hunza District have called for a complete strike on the 18th of November to register protest against the non-payment of compensation for the land used during the expansion of the Karakoram Highway.
A group of locals, including people from different villages, told Pamir Times that the National Highways Authority (NHA) has been using delaying tactics for almost a decade, depriving the locals of the compensation money. They blamed the General Manager of NHA and the Chairman NHA of willfully depriving the locals of their due rights.
A delegation of people from Shishkat to Sost met the NHA General Manager to demand payment of compensation yesterday. After meeting the officials, they said that the people are forced to resort to peaceful protest and strike because of the complete disregard shown by the NHA officials and other relevant departments for several years.
The NHA General Manager has reportedly told the delegation that the national institution does not have money at the moment to pay compensation money to the locals.
The locals said that they are positively looking forward to use the compensation money for opening businesses and investing in opportunities created by the CPEC project. They said that by not paying the compensation money, the NHA officials are creating hurdles for the region's economic growth, and depriving the people of the opportunities.
The KKH expansion project had started during the Musharraf era. The work was stalled for some time after the Attabad landslide disaster.
Locals told Pamir Times that in the past they have written to the Prime Minister's office, Governor GB, CM, and other top civil and military officials to voice their concerns against the non-payment of compensation money. They said that despite of clear orders from the Governor and Chief Minister, the NHA officials are refusing the make the payments, even after a lapse of nine years.
Hundreds of families in Hunza, Nagar, Gilgit and Diamer district have lost their their fields, orchards and other pieces of land, but remain uncompensated, or partially compensated.
In the past several protest demonstrations were organized by the affected people in Hunza, Nagar and district districts to demand payment of compensation money. After protest demonstrations in Aliabad, Ganish and other areas of Hunza, partial payments were made to affected farmers in central and lower parts of the district. However, The people in Gojal Valley have not received a single penny so far in terms of land compensation.