Making Gilgit-Baltistan a provincial unit is also a conspiracy against Kashmiris, Former Prime Minister Sardar Attique Ahmed Khan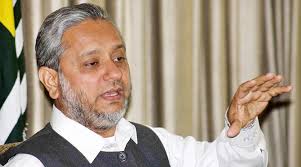 Karachi: Present wave of movement in occupied Kashmir cannot be crushed easily and will continue till achieving independence.
"The movement started in held Kashmir and it will continue till achieving the independence," said President, All Jammu and Kashmir Muslim Conference and former Prime Minister of Azad Kashmir, Sardar Attique Ahmed Khan while speaking to Kashmiri community at Sindh Boy Scout auditorium on Sunday.
Silence of international community over the atrocities by Indian Army in held Kashmir is disappointing. International community should play their role in implementing the United Nations' resolution as Indian Prime Minister, Narendra Modi is planning resettling of Hindus in the held Kashmir, he said, adding, making Gilgit-Baltistan a provincial unit have divided the mandate of Kashmiris.
"Making Gilgit-Baltistan a provincial unit is also a conspiracy against Kashmiris," he said.
"If the rulers are allowed to make their own wishes then they will make more provinces in Azad Kashmir, which will further divide the mandate of Kashmiris."
He claimed that divided National Conference in held Kashmir and Muslim Conference in Azad Kashmir is a conspiracy to further weaken the Kashmiris.
The Kashmir policy of both of the democratic Governments of Pakistan has disappointed the Kashmiris as rulers have refused to follow Quaid Azam's vision of Kashmir, he regretted.
The policies of the governments of Pakistan Muslim League (PML-N) and Pakistan Peoples' Party (PPP) replicated one another's without a change, he added.
Apologetic attitude of political parties and Indian intransigence is the biggest hurdle in resolving the Kashmir issue, he added.
He urged international community to play their role and pressurize Indian government to stop atrocities against innocent people of held Kashmir and to help resolve the long-standing issue of Kashmir.
The movement in the held Kashmir needs support and Line of Control has become a 'Berlin Wall', as there is a restriction imposed on people-to-people interaction and trade, which should be removed and Kashmiris should be united under a single territory, he added.
Source: Daily Times