A world-class university town – Part I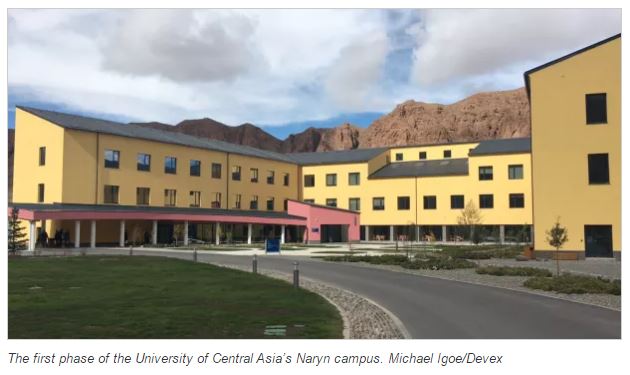 By Michael Igoe | Originally published HERE 
The road to Naryn, a sleepy outpost 100 miles from the Chinese border at Torugart pass, winds southeast from Bishkek, Kyrgyzstan's leafy, cosmopolitan capital, over mountain passes and through eroding canyons.
This is one vein of the fabled Silk Road, the ancient trade network that stretched from China to the Mediterranean Sea. Today cargo trucks traverse the route. Arriving fully weighted from China's western provinces to stock Kyrgyzstan's crowded markets, most of them return empty, belching black exhaust along the way.
Two men on horses guide a flock of fat-tailed sheep into oncoming traffic. The cars brake and the sheep envelop them, then part like a dusty sea of wool. The road turns with the Karakudzhur River, and then carves through a tight sandstone gorge as it levels out for the approach to Naryn, through an open plain of villages, still quietly reeling from the collapse of the Soviet Union 25 years ago.
In a forgotten, post-Soviet mountain town, an Islamic royal billionaire is spending millions to construct an elite university — and a new model for higher education. Will it work?
But on the outskirts of town, on a barren plot of land at the river's edge, backdropped by imposing cliffs that glow red in the late or early light, His Highness Prince Karim Aga Khan IV is building a university.
Naryn is now the site of an audacious experiment, a daring bet placed by a billionaire philanthropist, one of global development's most distinctive thinkers, and the spiritual leader of 15 million Ismaili Muslims who regard him as a direct descendent of the prophet Muhammad.
The Aga Khan — who, as founder and chairman of the Aga Khan Development Network, has built a global development empire that employs 80,000 people in more than 30 countries — has poured more than $100 million into this sleepy, mountain town over the last 16 years. He plans to spend even more.
His vision is of a world-class university on the banks of the Naryn River, with state of the art facilities, and a curriculum designed to equip young leaders from mountain communities with the knowledge and skills to bring about an economic renaissance for the region. This is one of three campuses that will together comprise the University of Central Asia, a secular, nonprofit university jointly chartered by the presidents of Kyrgyzstan, Tajikistan and Kazakhstan and the Aga Khan.
At Naryn the crisp yellow and red buildings of the campus rise improbably from manicured lawns bisected by neatly plotted walkways, while gangs of stray dogs roam the scrubby paths just outside the campus perimeter. It has wood-paneled dormitories, geothermal heating, laboratories, laptops for every student, and a "sports bubble" encased in white fabric to seal its indoor facilities against Kyrgyzstan's harsh winter.
Naryn, like many of Kyrgyzstan's Soviet-style settlements, is an unremarkable town dropped in a dramatic location. Set along the clear, blue Naryn River, crumbling apartment buildings and rusted storefronts cling like an afterthought to the walls of two parallel mountain ridges that cradle the country's ninth-largest city — home to only 40,000 people — in a narrow valley. Despite sharing a border with the world's second-largest economy, this is one of the poorest regions in the country, mostly dependent on animal herding, for wool and meat.