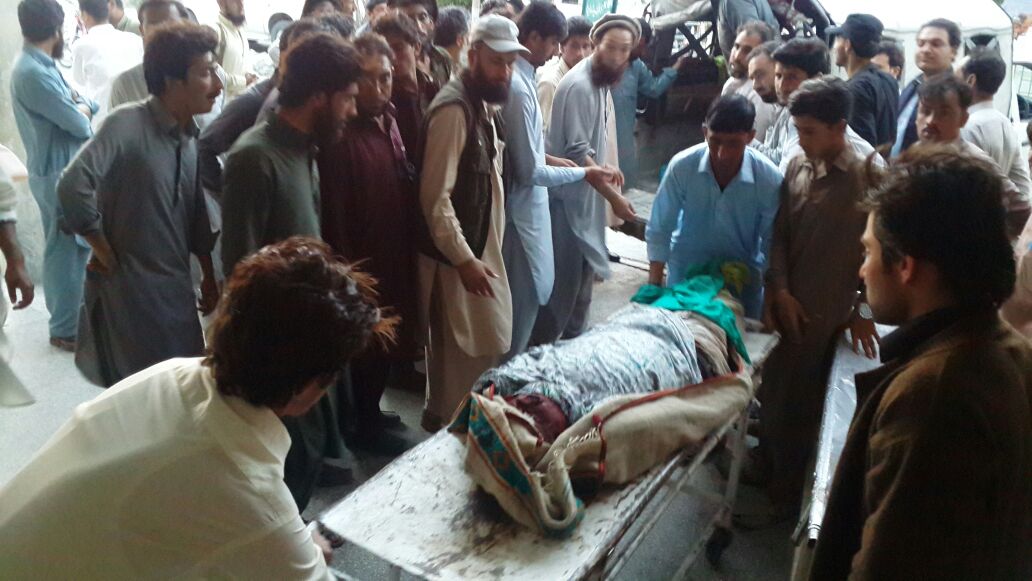 Misbahuddin Khawaja  
When I was born, definitely my parents could have celebrated my birthday as best as they could. They might have sent sweets to my relatives and neighbors, spreading the news of a new born baby. Likewise, my parents may have sung lullabies to torch-up my sleep with comfort and peace in a cradle. Surely, this is the reason I am having a good time in my life.
As time went by I was sent out to a school to learn something new to be able to embellish my life with wisdom and knowledge; to see things beyond the boundaries. I'm completely sure that I had cried many a times when my parents left me alone in my nursery class, with young fellows; I didn't want to leave the lap of my parents which was a whole world filled with love and care for me.
The fingers of my parents holding my hand were the most caring things that I have ever seen till now, in my entire beautiful life. And, then my parents started working hard for me to cover up all my necessities of education, because it is one of the aims of their life to see their children achieve successes and heights in their lives. I am sure all parents have similar aims for their children. They want us to rise and shine, and bring a smile on the face of all those we interact with.
The words are not enough, though. I am trying to attract your attention towards the love we get from our parents, and the dreams they have for us, and the hardships they endure to see us successful in our lives.
We, in Gilgit-Baltistan, are from one of the most remote and inaccessible areas of the world, nestled among the sky-kissing mountains of Karakorum ranges. Because educational, health and economic opportunities are limited in our beautiful land, we often have to travel and live outside of our heaven. Now, it is never possible for every one of us to afford the airfares of round journeys from Gilgit-Baltistan to different cities of Pakistan. Therefore, we always rely on public and private road transportation companies.
We choose to travel on private vehicles, mostly because they area faster. They claim to make us reach our destinations faster than the buses and coasters and vans. Therein lies a problem, because many a time we don't exercise enough caution while choosing our ride. We don't care for the condition of the car, or the driver. There are no insurance schemes in case of any mishap. We also don't exercise caution while choosing our day and time of travel. The weather-dependent KKH behaves differently in different seasons. Our rash decisions, at time, land us in hot waters. Some of us even lose our lives, and untimely finish our's our parents' and our families dreams and hopes.
It is very alarming that while for passengers traveling in an out of Gilgit-Baltistan, smaller (light) vehicles are becoming the rides of choice for most of the people, there are no regulations in place to check the quality of their services. They charged good money, almost double of what it costs in a bus or a van, but their services seem to be in a downward spiral, if the number of accidents, and the deaths, during the last couple of years are any indicator.
I'm aghast to believe that they have kept drivers who are not familiar with the roads of mountainous regions, and they let us travel with them who even don't know how to drive on mountains. They are mostly from other provinces of Pakistan, who just know how to drive in cities, but they don't know the ABC of driving to mountainous areas like our Gilgit-Baltistan. And, we have seen very closely that in couple of last years, the accidents happened with the drivers who were not mostly from Gilgit-Baltistan. So, I request everyone of Gilgit-Baltistan to prefer travelling in public buses instead of private cars, and if the case is very crucial, then please travel with anyone who knows how to drive on mountains and should be from Gilgit-Baltistan, in this way we can save our lives and can contribute the drivers of Gilgit-Baltistan to run their family's vehicle as well. So, this will collectively benefit us.
At last, I would like to request the government of Pakistan especially provincial government of Gilgit-Baltistan to provide us good quality of transportation system to and from Gilgit-Baltistan, and number of buses should be increased in every district according to the necessity; so that everyone will travel through public buses at low fares without risking their lives. We're greatly thankful to the high officials of China and Pakistan who constructed a wonder for us in the form of Karakoram Highway (KKH), but on this wonder, we must care while travelling. A small mistake can be a reason of immediate death before time on this road, so caring should be given first priority while travelling to and from Gilgit-Baltistan.
Your children, parents, and relatives are deadly waiting for your arrival to their homes, never disappoint them by taking a risk of your life, it's always "BETTER LATE THAN NEVER", at least you will reach your home safely, at least you will hug your parents or children, doesn't matter if it's four or five hours late. At least, you'll be again a reason of many smiles of your family, they care about you and they love you, love your life, and love this world. Hurry always spoils the curry!