GB artists captivate audience at GCU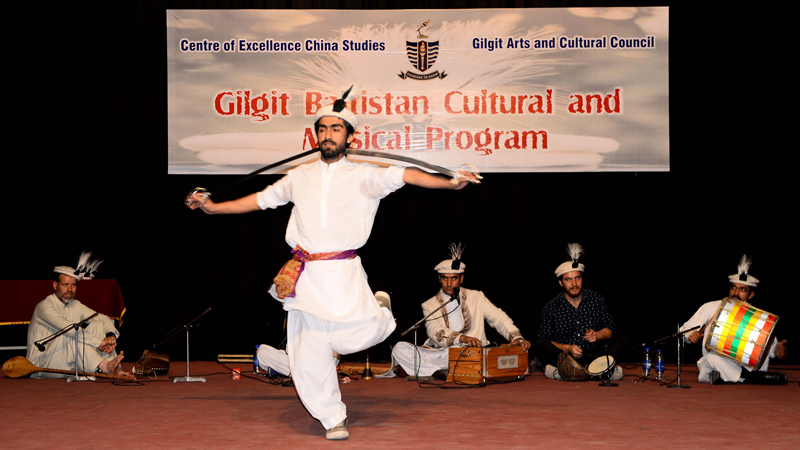 LAHORE: The Centre of Excellence China Studies of the Government College University and the Gilgit Arts Cultural Council Saturday organised Gilgit-Baltistan Cultural and Musical Evening at the GCU.
The cultural evening began with the Hunza Hareep, a traditional music performance by Ustad Fida Hussain and his musicians, was also marked by stunning dance performances, besides a traditional Brushaski songs presented by Talib Hussain Talib. Eminent artists of the region, including Ustad Jabir Khan Jabir mesmerised the audience with his songs.
Speaking on the occasion, GCU Vice Chancellor Prof Dr Hassan Amir Shah said that the university had always strived to integrate academic excellence with social and cultural programmes to promote diversity, tolerance and
co-existence.
"In light of regional developments like the China-Pakistan Economic Corridor, it has become imperative to highlight and promote a rich and beautiful culture of Gilgit-Baltistan hidden behind those lofty mountains of northern areas," he maintained.
He went on to say that terrorists wanted to spread fear but they would fail to deter Pakistan from its journey of enlightenment and development. He directed the academic departments to also hold Sindhi, Punjabi and Baloch cultural evenings to apprise the students of culture and traditions of all regions of
the country.
In his opening speech, GCU CECS Director Prof Dr Khalid Manzoor Butt said that Gilgit-Baltistan was the host to so many languages, including Shina, Brushaski, Khuwaar and Balti. Prof Butt said that Shina – the most popular language in GB – had survived the onslaughts of globalisation and
capitalism.
Appreciating the performances of musicians, the CESE director said these artists had played a very vital role in bringing people together, especially when the region was in the deep dark dungeons of sectarian violence.
A large number of other artists from Giligit-Baltistan, including Numberdar Hussain Ali, Imtiaz Hussain Shehkay and Imtiaz Ahmad also performed at the musical evening.  Daily Times