Climate Change Could Further Threaten Human Lives, Livelihoods and Ecosystem in Mountains

 GILGIT: Experts in a workshop declared Climate Change as an emerging threat to human lives, livelihoods and ecosystem of the mountain areas owing to increased frequency and intensity of extreme weather events.
The workshop was organized by the Pakistan Red Crescent (PRC) Gilgit-Baltistan chapter in collaboration with the Canadian Red Cross (CRC) aiming at to enhance the adaptive capacities of community volunteers.
Speaking at the occasion, renowned environmentalist and Regional Head WWF, GB Dr. Babar Khan said that the Hindu Kush Himalayan (HKH) region is called a global asset for biodiversity, food, energy, water resources, carbon and cultural diversity but is exposed to an array of natural hazards, which impact human life tremendously.
He said that the concept of climate change became older now and the focus is on the rate of change today hence for adaptive measures to save water resources is critically essential for Asian countries.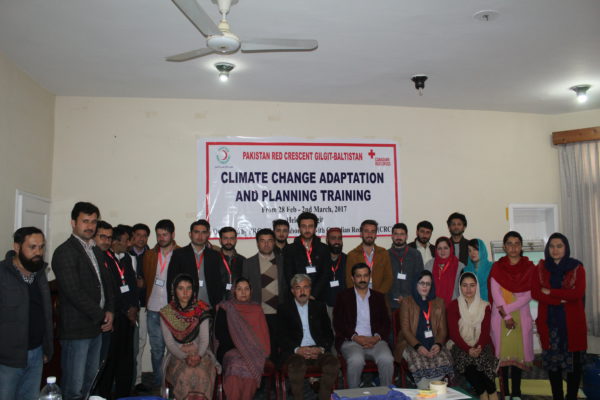 He stressed on the adaptation of community level action plans including trophy hunting, alternate sources of energy and energy efficient technologies, large scale afforestation schemes, pasture and livestock management and urged the PRC volunteers to aware, engage and inspire local communities about the short term and long term benefits of these resources.
"We consider streams as source of clean drinking water but studies proved that stream water is more hazardous then running river water that caused dangerous disease in Gilgit-Baltistan" said   Khadim Hussain an official from the Gilgit-Baltistan Environmental Protection Agency.
He added that most of the waterborne diseases are due to environmental contamination therefore awareness raising about saving nature is need of the time.
PRC Provincial Secretary Noor-ul-Ain said that Pakistan Red Crescent is playing a vital role in awareness raising and capacity building of local communities about Disaster Risk Reduction and impacts of climate change through various community approaches and needs assistance from the provincial government to make it more effective.