MLA Shereen Akhtar extends Green Pakistan Project to Ghanche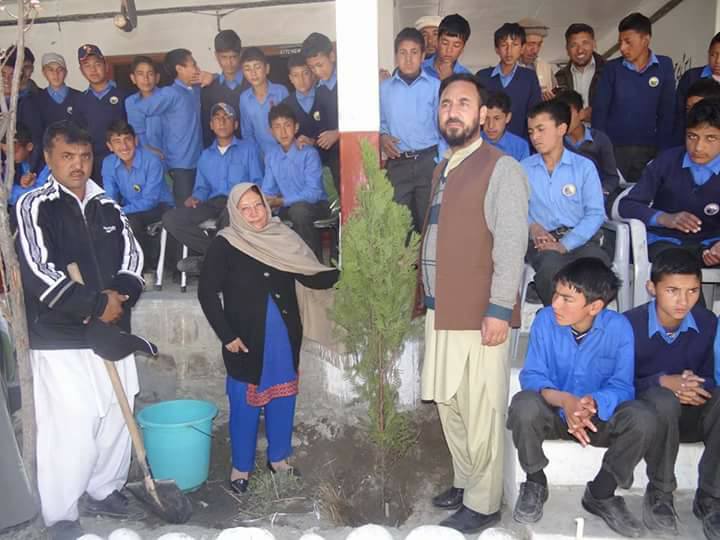 Khaplu (PR): Parliamentary Secretary for Education and member Gilgit-Baltistan Legislative Assembly extended the Prime Minister Muhammad Nawaz Sharif's vision Green Pakistan, project in District Ghanche. The lady member of GBLA planted ever-green Pine Trees at Government Boys High School Siksa.
Speaking at the occasion Shereen Akhtar said, ''it is the utmost priority of our Government to protect the forest and increase the ratio of green lands in Gilgit-Baltistan. The provincial government is also formulating policies with federal government to overcome the environmental effects of the CPEC.''
While addressing the students she said, ''the new generation owes a great responsibility to protect the environment and awareness should be started from the schools, colleges and universities.''
Headmaster High School Siksa, Syed Ishaq appreciated the initiative for increasing the number of trees in the mountain region which is higly prone to the effects of climate change.
Assistant Director at Department of Agriculture Ghanche, Abbas Khawaja also joined the occasion and showed the department's commitment for the campaign of Green Pakistan.
Under the programme, Green pakistan Rs 3.7 billion has to be provided to all the four provinces as well as Gilgit Baltistan, Federally Administered Tribal Areas (FATA) and Azad Jammu and Kashmir for development of forests in the respective areas.