Tourist says she was "seriously harassed" by Lahori boys at Khunjerab Pass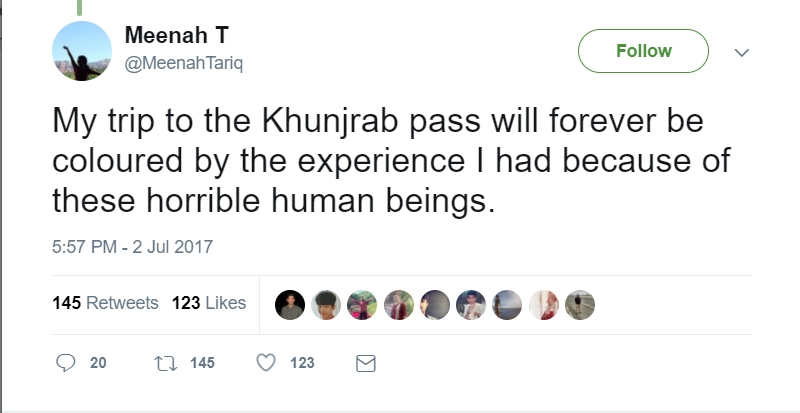 Gilgit: A female tourist has posted on Facebook and Twitter that she was seriously harassed by a group of boys while she was visiting the Khunjerab National Park along with a group of tourists, including her husband.
She has posted that the boys were from Lahore.
In a series of tweets, @MeenahTariq, who has also posted a photo of the alleged harassers, has said that the boys "blocked my path and would not let me pass. They positioned themselves around me and took photos so I would be in the photos."
These guys seriously harassed me at Khunjrab Pass two days ago. They are from Lahore. They followed me asking me to take a photo with them pic.twitter.com/5r3jkvoq5p

— Meenah T (@MeenahTariq) July 2, 2017
Anyway, I'm sharing this here because this photo I took was my only 'defence'. What I really want is to plaster their faces across Lahore.

— Meenah T (@MeenahTariq) July 2, 2017
With the increase in flow of tourists to the Gilgit-Baltistan region, the frequency of such incidents may also rise. In some areas, hoteliers and locals have also been complaining about inappropriate behavior of groups of tourists.
The government of Gilgit-Baltistan needs to train the police force to address such issues. There is also a need to raise awareness among the tourists, to show respect towards other visitors, as well as the local women, men and children, who are generally busy with their daily routines.