Police approaches witch doctors, faith-healers for recovery of abducted infant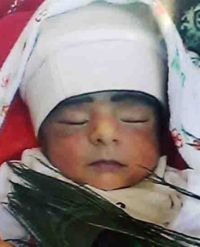 Skardu/Gilgit: (Monitoring Desk) The Skardu Police, having failed to locate and recover an infant who was abducted from a hospital, has approached faith healer and witch doctors, called "Aamils" in Urdu, to benefit from their 'knowledge of the unknown'.
The bizarre incident occurred in the Baltistan Division of Pakistan's northern GB region, where a 2-month old child was allegedly abducted by a veiled woman, from the Skardu District Headquarters Hospital, nine days ago.
There are reports that on being contacted, the spiritual healers have assured the police that they would use their powers, and the 'forces they control', to locate the child and recover him.
The decision of the police to approach the faith-healers is being criticized by a large number of people, who see it as a ploy to distract attention, and hide inefficiency.
"How can these so-called 'knowers of the unknown' resolve a criminal case? The police's approach is a reflection of non-professional attitude from a force equipped and trained through the national exchequer, and entrusted with protection of the masses", said Ali Asghar, an anthropology student, while responding to a news report published in a regional paper.
It is pertinent to note that after the news of the infant's abduction from the hospital went viral, the Chief Minister had sought a report from the DIG, and also instructed the police force to make all out efforts for his recovery.
Though strange, this is not the first case of its kind to emerge from the mountainous Gilgit-Baltsitan region, where many people believe in the existence of "fairies" and "Djins". A couple of years back, when the brutally mutilated body of a child was found in Chilas, the blame was put on supernatural forces, "Djins", and the criminal investigation remained inconclusive.