Activists call for banning fireworks in Shandur, keeping the plateau clean and green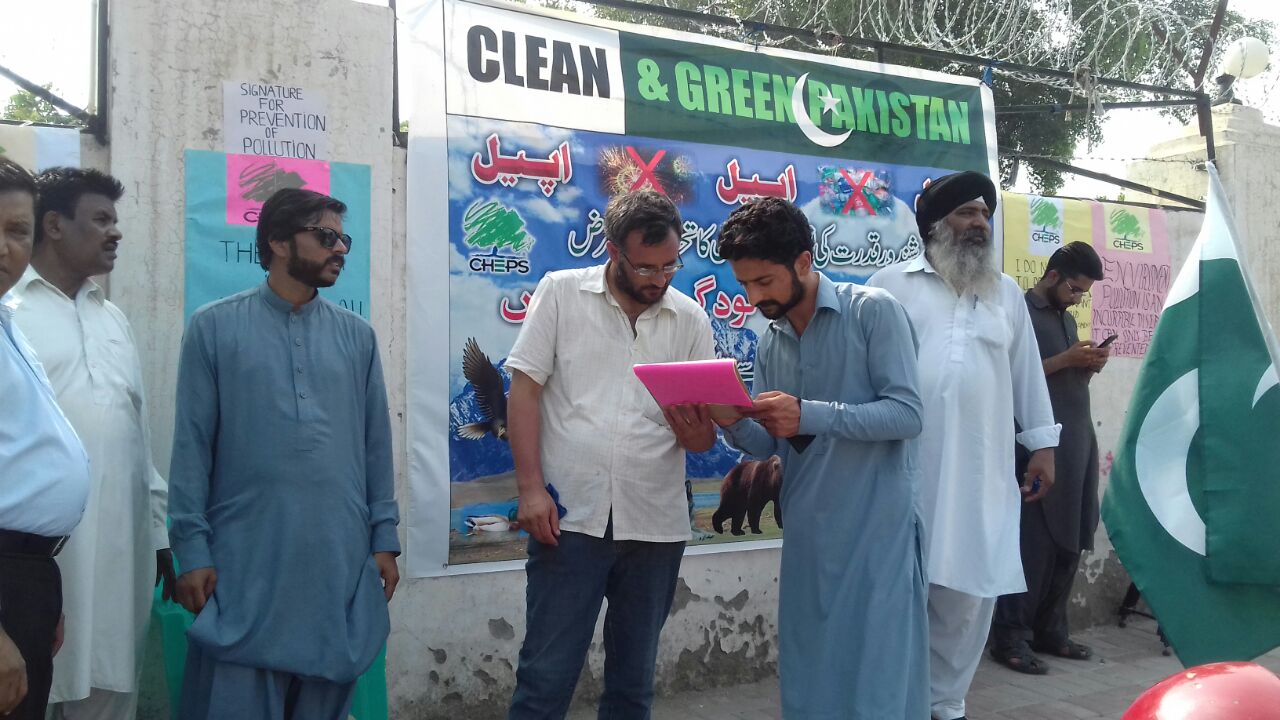 By: Abdul Wahid Khan
Peshawar: Chitral Heritage and Environmental Protection Society (CHEPS) has been advocating for protecting the environment of the mountainous Chitral district, as well as other parts of the country.  Working with the motto of keeping Pakistan clean and green, CHEPS has done 'more than 2,000 projects' around the country, during the last 12 years.
Shandur Polo festival is one of the most interesting polo tournaments played at the world's highest polo ground, 3738 meter high, between Chitral and Gilgit. As the festival is approaching and while everyone else is busy with their fun plans, chairman CHEPS Rehmat Ali Johar organized a peaceful signatory campaign at the Peshawar Press Club to raise awareness about protection of Shandur's environment and ecology, which he said has been ignored continuously by successive governments.
"We have been organizing the festival for more than 15 years, but the impact on the fragile environment has been ignored continuously", said CHEPS' president.
CHEPS volunteers were present during the protest, holding placards and banners, and raising awareness about the importance of Shandur's environment. They said that the plateau is being used for celebrating a festival without any plans or resources for keeping it clean and green. They said that after the festival comes to an end, the Shandur plateau turns into a garbage dump, left by thousands of people. They also said that the smoke emitted by thousands of vehicles during the three days also causes irreparable damages to Shandur's environment.
The activists also condemned the practice of holding huge fireworks at Shandur, saying it is detrimental for the life of the animals found in the area. They said that the loud sounds of the fireworks can impact the fragile environment negatively and cause ecological imbalance, leading to catastrophic results. The activists underlined the vulnerability of Chitral to natural calamities.
CHEPS' protest got a lot of support from people from all sector of life. The media people from press club visited the protest and signed the petition. There were people from all background who were there to support the cause of environmental protection.
Chairman CHEPS is working towards sending this petition with the ministry of climate change, governmental organizations and international agencies which would care for the cause. It should be kept in mind that this protest by CHEPS will continue in different parts of the country until proactive steps are taken by the government and Shandur administration.
Shandur is not just a venue for the festival, but it has great local importance for people of the north, i.e. Chitral and Gilgit Baltistan.
CHEPS said that it would call for resistance to any event which would disturb the ecology or nature of the area because this place is not just ours but it is an heirloom for many generations to come.