Brutal Homicide In The Name of Honour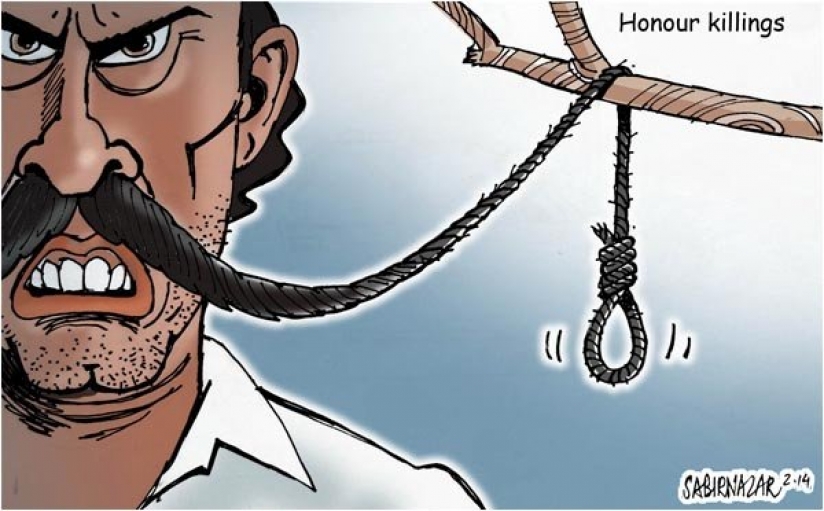 By Yousra Javed
"I killed my sister. Now, my family can live with pride".
"I protected my family from the shame, by killing her."
"I killed my mom, because she was dishonoring our family."
"I killed my wife, because she was of bad character."
"I killed my daughter, because she wanted to marry out of her choice."
"After the murder our family's honour is restored."
These are some of the bone-chilling statement often heard from perpetrators of murder in the name of honour.
So, what is Honour Killing? Who chooses that the women ought to be killed on the grounds that she has conveyed a terrible name or disgrace to the whole family? Are instances of merciless killing even registered? Who made the law in which you can kill some individual for the decisions they make? Who are self declared saviours in need of families' respect who unlawfully convict a young girl for bringing an awful name? Or, then again hold up, is a young girl at any point inquired as to whether she needs to state something in her defence? Is she ever listened to? Any answers?
We all have heard about incidents involving "heroic" act of men, who kill a female relative, in order to "reestablish their dignity, dignity of their family and their society.". As shocking as this may sound, the heinous medieval practice is still in vogue in our society.
Digging deep into the root cause, we find out that reasons of honour killing are as obnoxious as these men are.  It includes women facing harassment, being acid victim and honor killing if she wanted to marry someone outside her caste, or refusing arranged marriages, wanting to marry someone she loved, 91% of honour killings are motivated by families who believed that their female family members have become "too Westernized.
I think we all have become quite desensitized and insensitive towards such events. No one bothers to take stand against it, no one bothers to raise their voice against it, and no one condemns such acts. Nor the murderer gets punished and can easily get away with this. We are not surprised to state that India and Pakistan both have recorded rates of 'honour' killings of around 1000 per year.
The most talked about controversy: Qandeel Baloch's Murder Case
There's a raging, unending, debate on whether what Qandeel Baloch, the social media celebrtiy, used to do was right or wrong. Very few people considered her bold, original and courageous. Many called her a slut, a prostitute and a Jahanami.
The real question is, did she deserve to be killed? Was killing her the only option? If her brother cared so much about the dignity of his family, his sister and himself, was he able to achieve this by killing her? Her heinous murder was a detestable demonstration of savagery,  committed by a man without honor, and a sibling without an employment, who was angry with his sister's fame and money.
Presently, we hear there is a film, "Baaghi", depicting her life's story, in which Qandeel will be deified by the exceptionally gifted Saba Qamar. Much more can be said with about the possible impact of the film, or how it may or may not be able to raise awareness about the notions of honour and crime. Be that as it may, this biopic is being made just on the grounds that it will sell. It has all the correct elements for viewers- an alluring female lead, a popular subject that individuals know a considerable measure about, and afterward a discouraging story of a sad lady whose decisions and conditions got her killed at last.
I am not against the biopic being made. It will goad our sleeping hearts.
What hype and craziness began as a Facebook page led to the story of a murder, viewed and read about throughout the world. A year has passed by since her grievous demise. Her siblings are arrested. Her folks grieve their misfortune, having lost their sole breadwinner.
It's about time we got rid of honor killings, the menace of feudalism and tribalism. It's about time government does legislation to stop settling such issues among families but there should and there must be legal punishment to curb it for now and forever.
This previous week, the Sindh Assembly passed two laws against honour killing and acid attacks. It is an admirable activity and the primary such act against honour killings in all four provinces and domains. The laws are enough extreme with stipulations, for example, no blood money is permitted to be granted, acid attacks are unbailable offenses and proposing that the capital offense might be given to those executing for the sake of honour. In addition to this, they are intelligent of a humanistic attitude and the architects of it should do much more than only draft it and push it through the formality of senates and assemblies to get awards ..
I will leave you with the verse below, to ponder upon:
"Whoever kills a person [unjustly]…it is as though he has killed all mankind. And whoever saves a life, it is as though he had saved all mankind." (Qur'an, 5:32)
The contributor is a student of IoBM. She can be reached at std_17872@iobm.edu.pk
---