Justice Wazir Shakeel Ahmed appointed as chief judge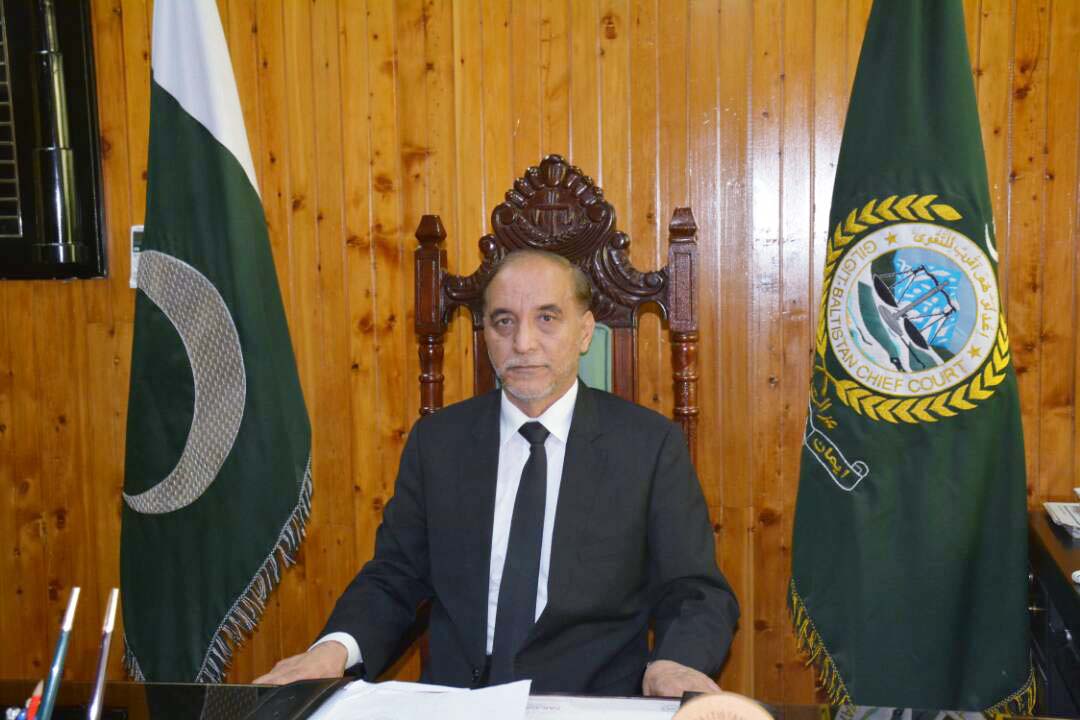 ISLAMABAD: Prime Minister Shahid Khaqan Abbasi approved the appointment of Justice Wazir Shakeel Ahmed as Chief Judge Chief Court. PM has also approved the appointment of Senior District and Session Judge Ali Baig as Judge Chief Court .
Chief Judge Wazir Shakeel was working as acting Chief Judge after the retirement of Chief Judge Justice Sahib Khan on 6th June 2017.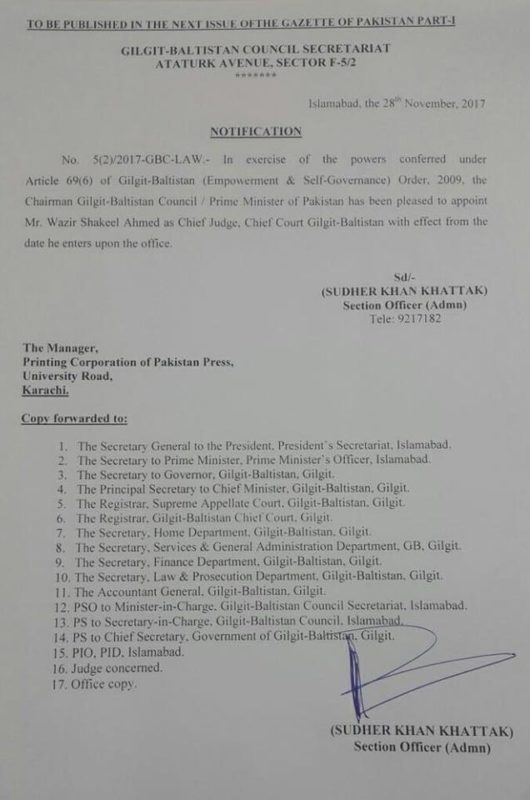 According to the website of  Gilgit-Baltistan Chief Court, Wazir Shakeel Ahmed hails from present Kharmang District having a political and judicial family background. His father Wazir Farman Ali RTD Joint Secretary after getting his LL.B. from Punjab University Lahore in the year 1955 was the first public prosecutor of the then Northern Areas who afterwards appointed as Civil Judge Northern Areas in the early 70s. At that time no post further to that of Civil Judge was existed in the whole of the then Northern Areas.
Wazir Shakeel Ahmed was born on 1.10.1961 at Skardu, after passing his matriculation examination from Government High School Khaplu he was shifted to Islamabad where he got his intermediate and bachelor degree from FG Degree College, H-8 Islamabad in the year 1978 and 80 respectively. He got his LL.B. degree from Khyber Law College in the year 1983. He started his practice in the year 1984 from District Courts Skardu. Contested the District Council Election in the year 1987 and became Chairman District Council Baltistan from 1987 to 1991. During the long 22 years of continuous practice he represented District Bar Skardu as president and General Secretary for numbers of tenures. During a legal practice Mr. Wazir Shakeel Ahmed represented Ministry of Defense and Aga Khan Rural Supports Programs for more than a decade as Senior Counsel. He was elevated as Member of Chief Court on 22 August 2013.