Collaboration must for tackling common climate risks in HKH region: Nepalese president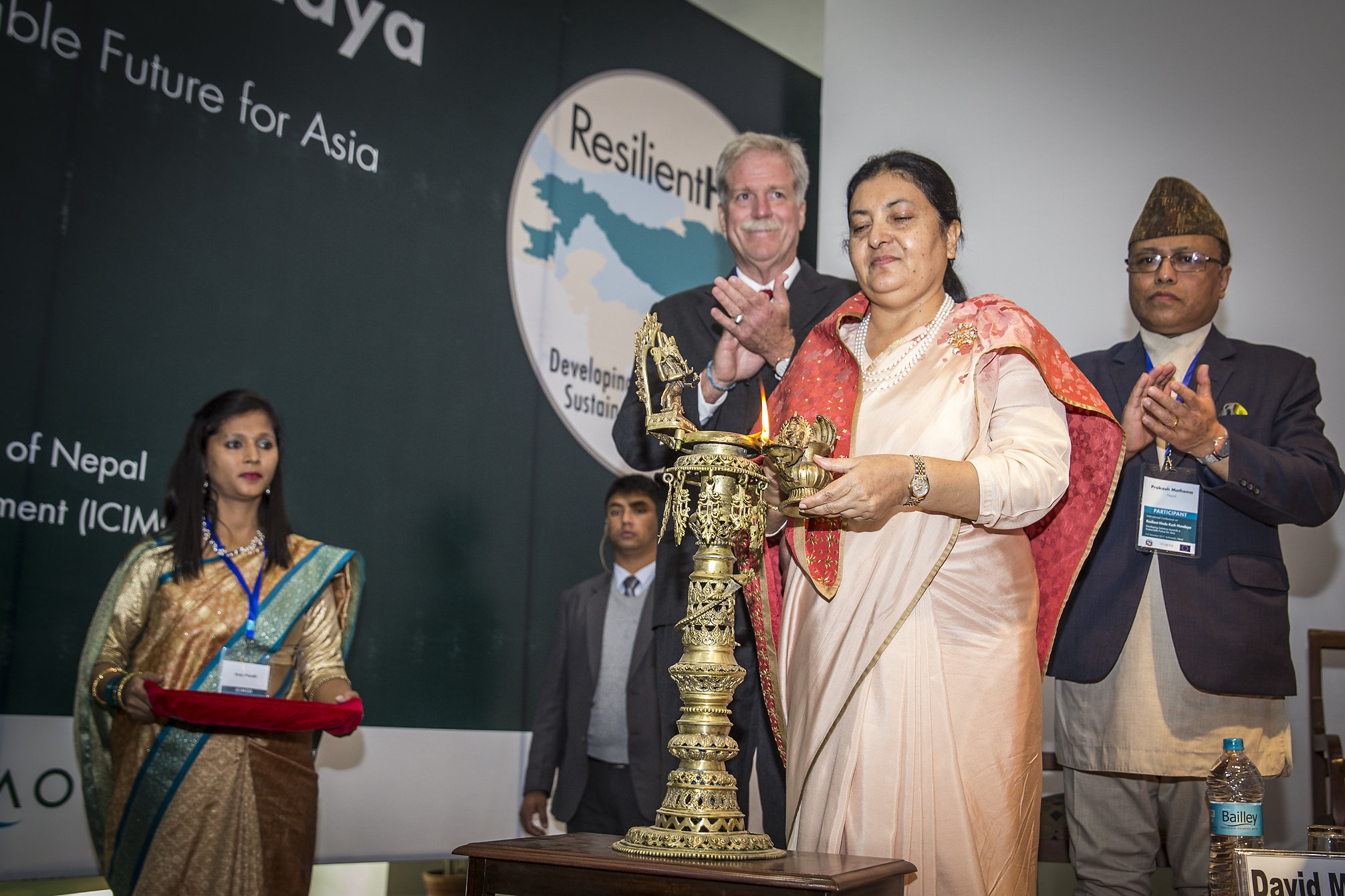 By Sughra Tunio
Kathmandu: Nepal President, Bidya Devi Bhandari, said on Sunday that growing problem of atmospheric brown cloud phenomenon in South Asia region has surfaced as a pressing environmental challenge, deepening fallouts of global warming on the region's glaciers, cryospheric environment, mountain ecosystems, water resources, ecology and biodiversity.
"However, boosting intra-regional collaboration at various scales, particularly government level, is inevitable to cope with the common environmental menace of the brown cloud," she told while addressing opening ceremony of the four-day regional conference on 'Resilient Hind-Kush-Himalaya: Developing Solutions towards a Sustainable Future for Asia' began here today.
Atmospheric brown cloud is a layer of air pollution containing aerosols such as soot or dust that absorb as well as scatter incoming solar radiation, leading to regional and global climatic effects and posing risks to human health and food security. The layer extends from earth's surface to an altitude of roughly 3 km (1.8 miles).
While addressing as a chief guest, the Nepal's president also warned during her address that dealing with devastating impacts of climate change in Hindu-Kush-Himalayan countries, particularly on lives and livelihoods of 210 mountain people, is not possible without intra-regional cooperation.
However, the Nepalese president Bidya Devi Bhandari urged the the regional governments to come forward and collaborate at government, academic, research and knowledge scales to protect climate-vulnerability of the region's over 1.3 billion population, mainly lives and livelihoods of 210 million people in the mountain areas of the HKH region.
"In fact, numerous opportunities lies in the collaboration to secure sustainable development and economic growth by overcoming the region's climate vulnerability and risks that pose mounting challenges to the region's efforts for achieving UN's Sustainable Development Goals (SDGs), particularly poverty, water, health, climate change," she emphasised.
The international event is being organized by the Kathmandu-based International Centre for Integrated Mountain Development (ICIMOD) in collaboration with the Government of Nepal's Ministry of Population and Environment and in support from the European Union.
The Hindu Kush Himalaya (HKH) are the source of 10 major river systems in Asia that provide water, ecosystem services and livelihoods to more than 210 million people. The region holds water for more than 1.3 billion people—a fifth of the world's population—living in downstream river basins.
Comprising Afghanistan, Bangladesh, Bhutan, China, India, Myanmar, Nepal and Pakistan, the Hindu Kush Himalayan (HKH) region extends 3,500 km over all or part of the eight countries. It is the source of ten large Asian river systems -– the Amu Darya, Indus, Ganges, Brahmaputra (Yarlungtsanpo), Irrawaddy, Salween (Nu), Mekong (Lancang), Yangtse (Jinsha), Yellow River (Huanghe), and Tarim (Dayan), – and provides water, ecosystem services, and the basis for livelihoods to a population of around 210.53 million people in the region. The basins of these rivers provide water to 1.3 billion people, a fifth of the world's population.
During his welcome address, ICIMOD Director-General, David Molden, said that today mountains are under growing pressure from climate change and a host of other factors like rapid outmigration and dwindling natural resources.
Underling the need for urgent collaborative climate action in the HKH region, Mr. Molden said that what happens in the mountains matters for Asia, and by extension, the world.
"When we invest our resources for mountain solutions, it is not only mountain people who benefit, but people downstream," he told the participant.
He told the participants that the narrative that all of you hear most often about mountains portrays life in the HKH as risky, vulnerable, and limited."
David Molden called for regional efforts to change the narrative about mountains in a positive direction.
"Let us speak about new economic opportunity for communities and youth, about stories about public-private partnerships that create these opportunities, and about solutions," the ICIMOD director general suggested.
Explaining the central theme of the regional conference, he said, changes and disasters are "shocks" to peoples' way of the life. For instance, a flood, an earthquake, drying springs, migration, or a fall in the market price of crops can "shock" peoples lives – though in different ways – and set them back, hurt livelihoods. In this context, to be resilient is to be prepared for such shocks, to be able to recover from shocks, and to bounce forward to a state stronger than before.
However, the conference will highlight over the next four days solution-based stories of resilience that need to be replicated in all regional countries, David Molden said.
"We'll be looking for more solutions and ideas that build resilience for mountain people throughout the HKH… to prepare for shocks, to bounce back and bounce forward," he added.
The conference is bringing together more than 330 experts from over 30 countries from various parts of the world including Asia-Pacific, Europe and United States regions, nearly one-third of them women experts.
It consists of a high-level plenary session, 11 different parallel sessions on adaptation, resilience, water, mountain development, disaster risk reduction, trans-boundary collaborations, and resilient crysophere services in HKH region.
European Union Ambassador to Nepal Veronica Cody said that the European Union is part of global climate action and has taken various intra-regional policy measures for adaptation and mitigation.
"The policy interventions are already in place reduce its the region's carbon footprints, particularly by shifting towards renewable energy, Besides, we are also helping the regions like HKH to boost its climate-resilience through funding, technology transfer, transfer of technical knowledge and capacity-building," she told the participants.
Among others who spoke the inaugural session included, among others, ICIMOD's Board Chair and Agriculture and Forest Secretary of the Bhutan government Dasho Rinzin Dorji and Nepalese Minister of Environment Mithila Chaudhary.