FIR registered against 12 leaders of AAC & MAT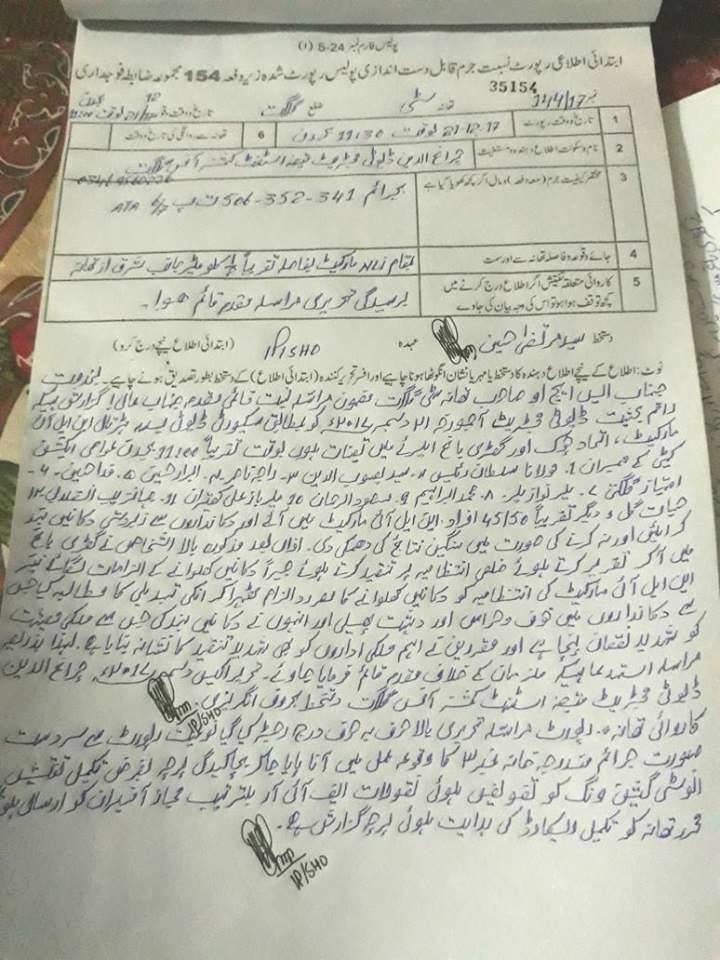 GILGIT: The Gilgit police have registered a First Investigation Report (FIR) against 12 leaders of Awami Action Committee (AAC) and Markazi Anjuman-e Tajran (MAT) under Section 341, 352, 506 of Pakistan Penal Code and Section 6/7 ATA.
The FIR number 144/17 was registered on 21 December at City Police station following a complaint filed by Duty Magistrate Chiragh Uddin alleging that the 12 persons and other total 45/50 persons forcefully closed the shops at NLI market Glgit and threatened the shopkeepers for serious consequences if their directions were not followed.
Those nominated in the FIR include Moulana Sultan Rais, Syed Yasub Uddin, Raja Nasir, Ibrar Hussain, Fida Hussain, Imtiaz Gilgit, Mir Nawaz Mir, Muhammad Ibrahim, Masood Ur Rehman, Mir Baz Ali Ketran, Jahanzeb Inqilabi and Hayat Gul. The names of the remaining persons were not mentioned in the FIR.
The FIR further mentions that the nominated persons in their speeches at Gari Bagh blamed the district administration for the forceful closure of shops in NLI market. The FIR mentions that the blaming of the administration of NLI market for forceful closure of shops shops created panic and terror among the shopkeepers. It says the closure of shops resulted huge loss to the national economy. The FIR also alleges the nominated persons for criticizing national institutions.