Presidential elections for the societies of FC College, Lahore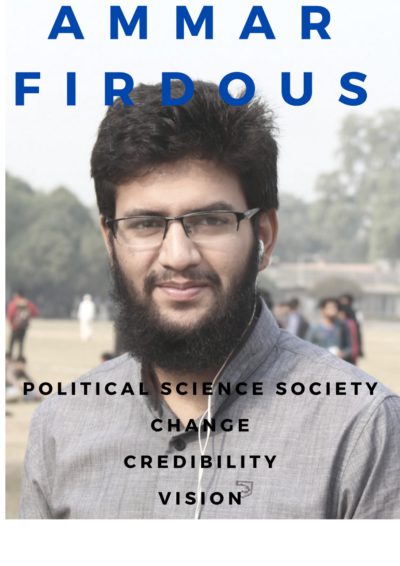 By Shahzaib Hussain 
Let the truth be told for the purpose of constructing diversity, rather than splitting people on different basis. The truth is, exploitation is a prevalent disease in Pakistan and especially it has disastrous impacts on us, the youth.
Today,  the basic problem we are inflicted by so hard is racial, regional and religious discrimination. Exploitation is not just an issue but also core impending problem of our society . It didn't allow us to grow. Our talent usually wasted by this sort of moral diseases which  are somewhat incurable in so many situations. However,  we have hope to bring change  in the mindset of people by involving dialects in our debate,  if from today we open a free speech,  we will be starting rejuvenation and start up solving problems. So henceforth to open debate in our circle of influence firstly we need to  choose people who can debate to address issue. We need to have people who can be able to show off their talent either it is university  or outside environment.
Now a days,  we have elections of different societies in FC College for electing presidents. People of different backgrounds have lashed out on the grounds without  proper understanding of the elections system at FC College.  Moreover,  everyone is chanting slogan without critically thinking about their candidates. Some are involved in propagating rumors about the next candidate while  others are busy disseminating rumors.
The best thing  to do at this time  is to be vivid and clear minded. We need to talk to every person who is contesting and start to know the credibility of the next person by asking questions. We should  judge and then  we need to vote the best candidate, based on our judgement. Because, if we don't choose the best candidate, then will we will soon be repenting, but the tides will have passed. As it is well said that,  a right decision  at right time will lead toward the course of success.
I asked questions by going to every candidate contesting for the Political Science Society of FC College. I have found zero credible people standing for election, except Ammar firdous. He is really talented when it comes to leading discussions. Also, he made me aware of the fact that he has made Renaissance Club and has participated in many debates previously and is still busy doing it through his club. In some events he even called Pervaiz hoodboy for the debate and made lots of progressive session about  the topics which are often considered " not to talk about  for instance involvement  of military  in the political discourse  of Pakistan ".
After listening to his story, I come to select my candidate who is famous  for so many reasons, especially debating with people,  talking about racial discrimination and moreover, he bridges gaps between people and bring them to talk. This way, he has encapsulated concepts and instilled people with  understanding and comprehension . He is the one and only credible person. Furthermore, his credibility is even tested by so many teachers during interview and now he is contesting for the seat.
In conclusion, after reading this post you may also inquire about Ammar Firdouse and possibly make an educated  choice.