"Weather Charges" policy for Gilgit-Baltistan govt officials and legislators announced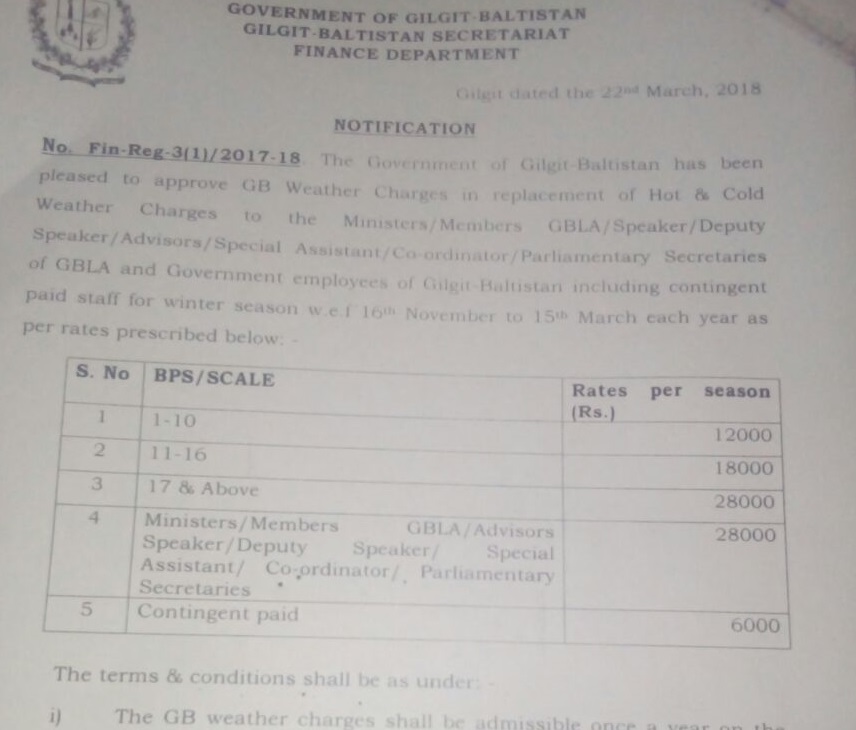 Gilgit: The government of Gilgit-Baltistan has announced a new "Weather Charges" policy, replacing the "Hot and Cold Weather Charges" policy, meant to benefit government employees and elected/non-elected members of the Gilgit-Baltistan Legislative Assembly.
Under the new policy, employees of Basic Pay Scale (BPS) 1-10 will get a lumpsum 12,000 rupees per season, BPS 11-16 employees will get 18,000 rupees per season, while BPS-17 and above employees will get PKR 28,000 per season. GBLA members will also get 28,000 rupees per season. Paid contingent staff will get 6000 rupees per season.
The payments will be made once every year during the winter season, to provide the beneficiaries resources for purchase of winter items.
The new policy will be in effect from 15th of March, said a notification issued by the Finance Department.
Federal and provincial government are the biggest employers in Gilgit-Baltistan. A revised, better, "Weather Charges Policy" had been a major demand of the employees, which now stands fulfilled.