Android App of Wakhi language keyboard launched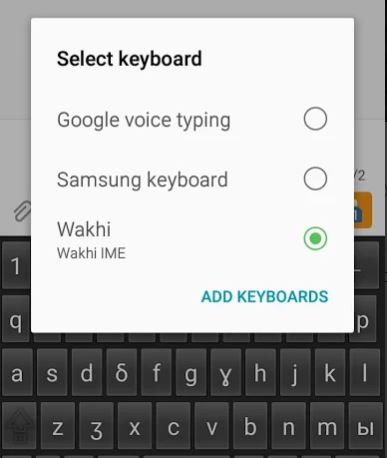 Islamabad: An android based app for writing Wakhi languages using Romanized alphabets has been launched.
Developed by Hidayat Ali Shah, a software engineer from Gulmit-Goja Valley, Hunza, the free app is available for download and use on android based devices.
Click the image below to download:

The app's description by the developer is appended below:
Wakhi keyboard enables you to type in Wakhi language . Wakhi keyboard is the first and very unique of its kind available on google play stores.
Now you can easily compose email, type messages, and post on social media through this Keyboard. With Wakhi keyboard you can easily write all Wakhi alphabets, letters and words. There is no hard and fast rules just download Wakhi keyboard and start typing in Wakhi language.Guideline about language and input settings :
-download Wakhi keyboard
-go to keyboard settings from 'Language and Input'
-enable Wakhi keyboard 'Wakhi IME' on your mobile phone
– You can set it as your default keyboard as it enables you to even type all English characters, you can easily switch to other Keyboards by just holding for 3 seconds the Keyboard in icon.
Typings :
-Easy typing methods
-All Wakhi Symbols are added
-By holding . and , button you different symbols will be displayed for your use.
– You can also type in English while using the Wakhi keyboard because all English alphabets are available on this keyboard
-All the supported character can be seen in the screenshots and video below.You feedback is very valuable to us, feedback and suggestion are more than welcome. You can contact at email address hidayatali@gmail.com.