All Baltistan Movement to move court against Chief Secretary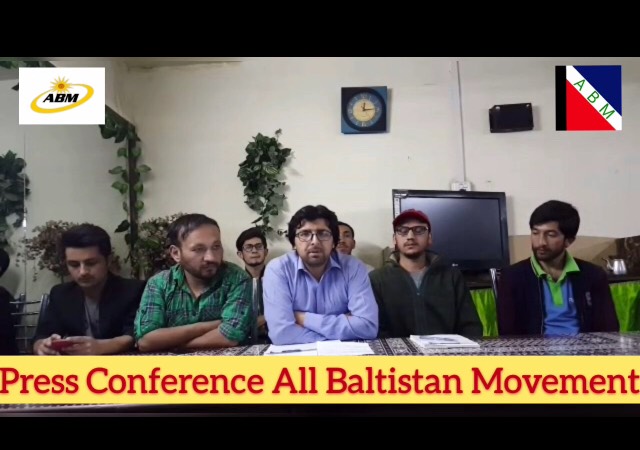 Skardu: (PR)  All Baltistan Movement (ABM) , a youth organization, has principally decided to knock the door of justice over what it termed "extreamly controversial and derogatory remarks" leveled by Chief Secratary Gilgit-Baltistan against the people of the region which has long history of sacrifices to the country.
The ABM Chairman Shareef Akhonzada in a detailed press release said that Gilgit-Baltistan (G-B) chief secretary, a couple of days back blatantly snubbed a resident of Ghanche district Skardu for demanding a gynecologist for his ghanche valley where over 37 women have lost their lives during pregnancy due to lack of medical facilities within the short span of two years.
Sharif said that During his median visit to the farflung mountainious locality after assuming the office charge a month back, the CS was requested by a gentleman for appointment of a gynecologist at the hospital to protect the precious lives of their mother and sister during delivery cases, but the CS instead of expressing sypathy, came up with a harsh attitude asking the man "Tell me how much tax do you pay? Tell me,"
The man in a somber tone said, "Sir, Our mothers and sisters die due of lack of health facilities."
"Ours is a disputed region and taxes can't be imposed on us."
Tarar went on asking on an agresseive tone keep your hand down and tell me if you paid a single penny as tax?"
"No you aren't disputed. Government provides the region Rs100 billion, and what is your contribution in return. Tell me?" Tarar continued.
Sharif said that the tone 0f Babar Hayat Tarar in the video that went viral on social media triggered widespread anger as he too considers as a sheer humiliation, disgrace and derogatory to a region.
"We have decided to approach the court and and are taking guidance from the lawyer freternity in this regard. Our petition against CS is almost ready," Said Akhonzada adding Tarar has insulted the whole region and provocked the sentiments of the region. He must know the fact that in the recently promulgated Gilgit-Baltistan order 2018, the GB has been declared  five year tax exempted region. Who come he demands taxes from us? he questioned. Sharif said we are paying indirect taxes in all items ranging from botalled water to PIA air ticket. We will love to pay even direct taxes but first the federal government, and the state institution ensure our fundamental, political, social and constitutional rights. "It's a unersal principle that no taxation are imposed on a desputed region without representation on the constitution."
I hope the court will ensure justice to the people of GB.
He also asked authorities to take immediate action against the official in question for the comments that hurt people across the board. He also urged for the appointment of gynecologist at the said health facility.
 "He is acting like a boss. He must know that he is rather a servant and he should behave like a servant,"
He also asked the CS to offer his unconditional apology from the people of region for his irresponsible behaviour and taunting remarks..