Appointment of a "controversial person" as Gilgit-Baltistan's top judge opposed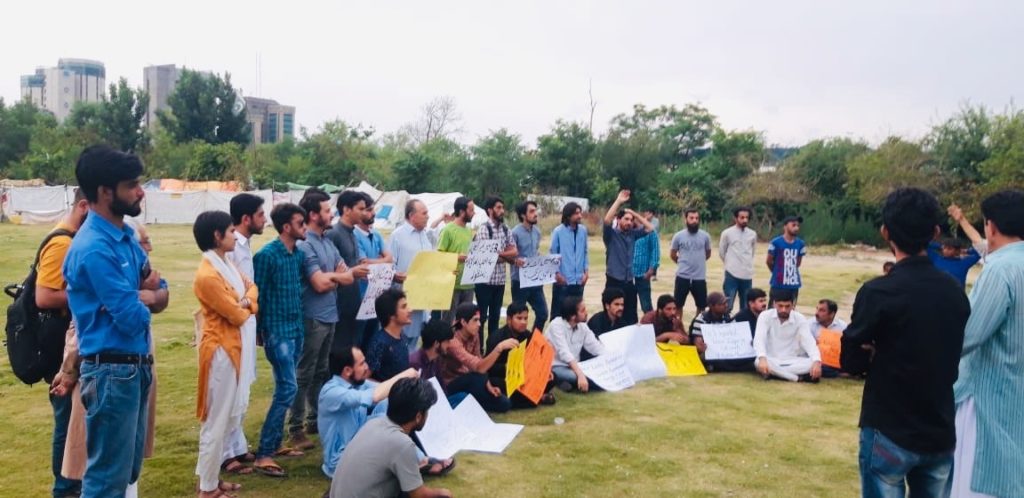 ISLAMABAD: (PR)  The residents of Gilgit-Baltistan including activists of youth, students, political and social organizations, held a protest demo in front of the National Press Club and demanded removal of what they termed a controversial chief judge of the Gilgit-Baltistan's top court and establishment of an independent judiciary in the region.
The protest demo was organized by Gilgit-Baltistan Youth Alliance, a conglomerate of youth, students, and political organizations of Gilgit-Baltistan, against the appointment of a controversial non-local person as Chief Judge of the Gilgit-Baltistan Supreme Appellate Court by PM Imran Khan on the recommendations of GB chief minister and governor.
The decision has prompted a strong protest across Gilgit-Baltistan. All the representative constitutional bodies of lawyers including GB Bar Council, Supreme Court Bar Association, High Court Bar Association, and all district bar associations (DBs) have been on strike. They observed strike on May 17 and 18 against the decision. The Gilgit-Baltistan Legislative Assembly has also unanimously endorsed a resolution against the appointment.
The youth leaders who spoke on the occasion criticized the decision in their speeches and called it a travesty of justice and joke with the people of Gilgit-Baltistan.
They said that for the last over seven decades, people of Gilgit-Baltistan have been mistreated and deprived of their fundamental democratic, economic, social and political rights by successive governments.
The latest example is the appointment of a non-local, controversial person as chief judge of the Supreme Appellate Court of the Gilgit-Baltistan in violation of the United Nations resolution of August 13, 1948, the Constitution and Supreme Court of Pakistan judgements.
The speakers included Zahid Jamal of Gilgit-Baltistan Youth Forum, Nisar Khanzada , Kamran Wazir of All Baltistan Movement, Sabir Shigri, Musa Zain and Kazmi of Baltistan Students Federation, Ali Ahmed Jaan of National Students Federation Gilgit-Baltistan (NSFGB), Diamer Youth Organization's Ahmed Jan Qadeer, Wajidullah Baig of Awami Workers Party, Gilgit-Baltistan and Shabbir Mayar of Baltistan Action Committee.
They said that the purpose of establishing controlled and powerless legislative and judicial systems in Gilgit-Baltistan and appointment of a controversial person as chief judge in violation of the criteria and rules was to continue loot and plunder of GB's natural and mineral resources and suppress any kind of resistance.
The protesters were carrying a banner and placards inscribed with slogans in favour of their demands and against the appointment of the chief judge.
They warned that if the decision was not reversed, they would not only launch a protest campaign in Gilgit-Baltistan but also throughout Pakistan.
They urged the SCP chief justice to take suo motu notice of this unconstitutional and illegal appointment as GB is constitutionally not part of Pakistan but is under its administrative control.
Only the people of Gilgit-Baltistan have the right to elect a constituent assembly to legislate on the basic democratic, political, economic and human rights of the people, and to provide easy and quick justice to local residents through an independent judiciary, they stressed.
They urged all political and youth organisations of Gb to get united on one point to launch struggle for their rights.
1. They demanded the government to set up judicial commission comprising representatives of lawyers, judges and elected public representatives to select judges on merit and through a transparent manner in higher judiciary of GB
2.  They also demanded removal of all non-local persons inducted in the higher judiciary of Gilgit-Baltistan, and replace them with eligible and competent persons.
3- They also demanded withdrawal of all black laws, including anti-terrorism act, from Gilgit-Baltistan and release of all political and social workers including Baba Jan convicted under ATA.
4. They also demanded elections for a constituent assembly and formation of a local autonomous authority as per UN resolution.
5. They also demanded an end to grabbing of people's collective lands, loot of natural resources and minerals.