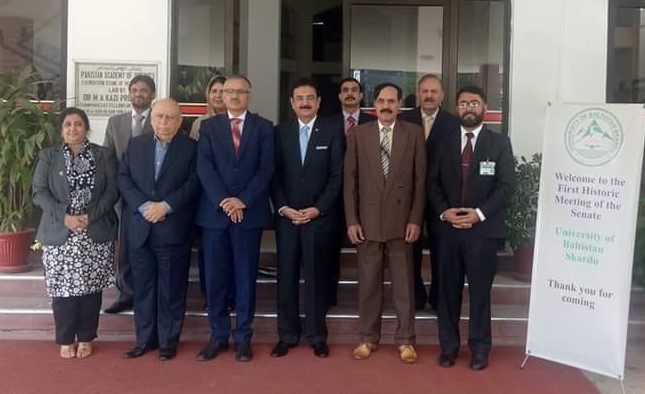 ---
ISLAMABAD: The first meeting of the Senate of University of Baltistan, Skardu was held in Islamabad on Monday.
Prof. Dr. Naveed A. Malik, Former Rector, Virtual University and Chairman Senate; Prof. Dr. Muhammad Naeem Khan, VC, UOBS; Afzal Ali Shigri, Former I.G. Police, Sindh; Prof. Dr. Muhammad Ali Shah, VC, QAU; Prof. Dr. Naeem Tariq Narejo, HOD & Former Registrar and CE, University of Sindh, Jamshoro; Prof. Dr. Farkhanda Manzoor, Former VC & HOD, LCWU; Prof. Dr. Muhammad Idrees, Former VC, Hazara University and Professor CEMB, PU; Prof. Dr. Tauqeer Warraich, Director, University of Mianwali and Ms. Mehreen Gillani, Chief P&D, Ministry of KA&GB attended the first maiden Senate meeting held at Pakistan Academy of Sciences in Islamabad.
Shakir Shamim, Treasurer, UOBS and Rao Muhammad Sharif, Former Treasurer, UOBS attended the meeting as Co-opted members.
Wasim Ullah Jan Malik, Registrar, UOBS successfully conducted the proceedings of the meeting as Secretary Senate.
The Senate constituted the Selection Board and approved the budget for the years 2017-18, 2018-19 and 2019-20.
Senate also endorsed the recommendations of F&P Committee, Academic Council, Syndicate and Affiliation Committee.
Senate further approved the establishment of UOBS Hussainabad Campus, UOBS Anchan Campus, UOBS City Campus and PD offices in Skardu. The establishment of UOBS Liaison Office and Winter Campus at Islamabad was also endorsed and approved by the Senate.
Senate praised the Master Plan and building designs prepared by PD and Consultants for the construction of UOBS New University Campus at Sarfaranga. This development project worth Rs. 1,750 million.
The Senate approved the anticipatory orders regarding the appointment of Principal Officers issued by the VC from time to time.
The Senate lauded the successes of university and highly commended the efforts of VC and his team.
Vice Chancellor, UOBS thanked the Senate for approval of extensive agenda items pertaining to various academic programs, infrastructure & faculty development, administration and finance.