CM forms committee to scrutinise Covid-19 spending in Gilgit-Baltistan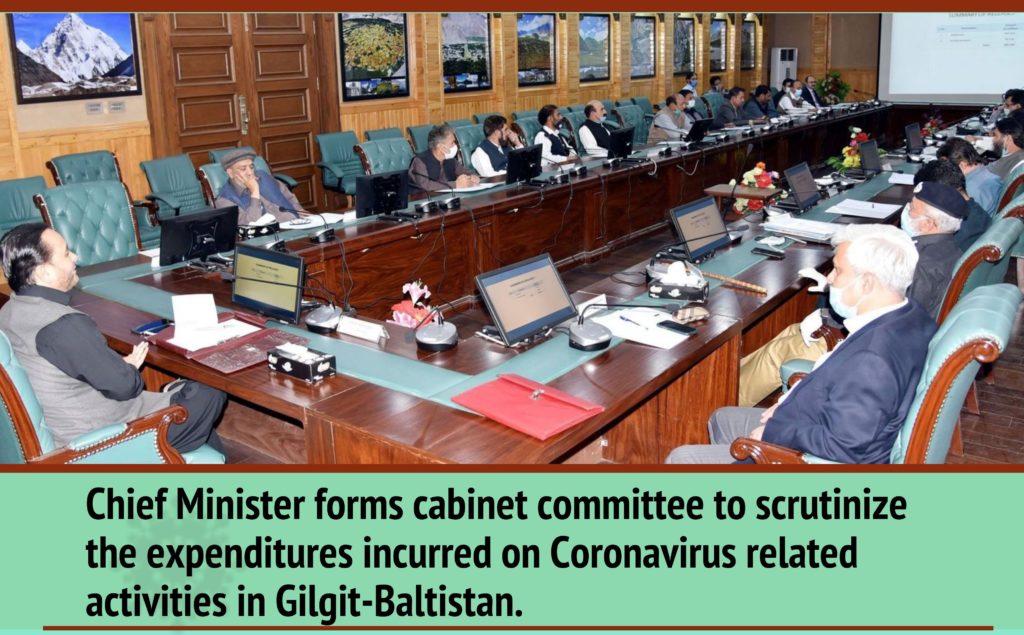 ---
GILGIT: Chief Minister Gilgit-Baltistan Hafiz Hafeezur Rehman has formed a cabinet committee to scrutinize the expenditures incurred on Coronavirus related activities in Gilgit-Baltistan.
The committee will include the ministers of law and forest departments and advisor food.
Addressing the cabinet meeting, CM directed the authorities to keep the operational expenses on coronavirus activities transparent. He also directed the government official to return the additional vehicles to GDA pool.
He said the GB government has released Rs 480 million so far for prevention of Coronavirus.
Chief Minister said revolutionary steps were taken to provide better medical facilities in Gilgit-Baltistan. He directed to purchase CT Scan and dialysis machines.
CM directed to speed up the process of the distribution of rations among 27,000 deserving families.
Hafiz asked to ensure implementation of SOPs prepared for mosques, Eid congregations and markets. He said the GB government will implement the decisions of the Supreme Court of Pakistan.
He asked to strictly enforce the ban on entry to GB without conducting coronavirus tests.
Taking notice of an incident occurred at the Provincial Headquarters Hospital Gilgit, Chief Minister has constituted an inquiry committee headed by Commissioner Gilgit. He directed to ensure security in hospitals.
Hafiz also directed stern action against the culprits on the basis of the recommendations of the committee.
Chief Minister said schools will remain closed till July 15. Decision to reopen schools will be made on the basis health advisory.