Apex Commitee vows to maintain peace in Gilgit-Baltistan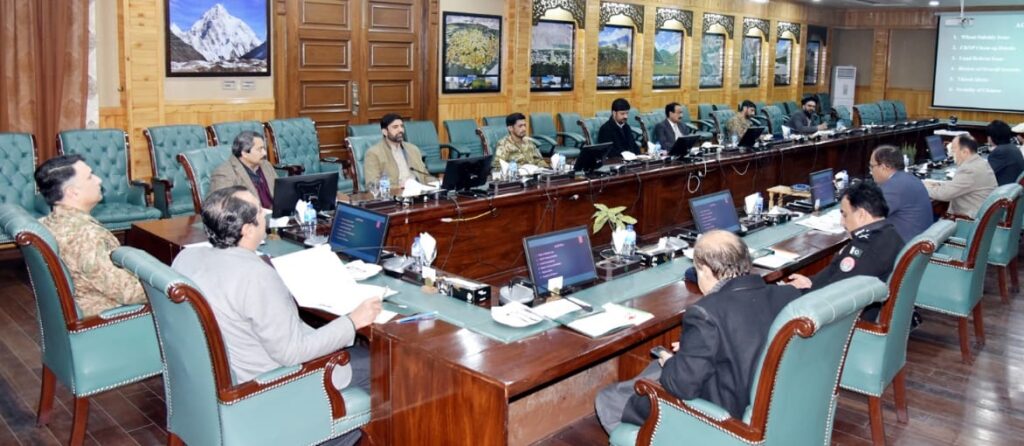 ---
GILGIT: Apex Committee of Gilgit-Baltistan met on February 15th to discuss various issues, accordign to a press statement. Chaired by CM Khalid Khurshid, the meeting was attended by Chief Secretary, Force Commander, IG Police, Secretary Home, Sector Commander MI, Sector Commander ISI and other members of the Apex Committee.
According to the press release the apex committee has reaffirmed that all possible efforts will be made to ensure peace in Gilgit-Baltistan.
The committee has decided that blocking of Karakoram Highway and Jaglote-Skardu Road (JSR) by protesters will be not be allowed and that violators will be booked under law.
The Apex Committee has also discussed the wheat-subsidy issue and decided to digitize the process, including biometric verfication, to ensure that the subsidzed grains reach the most deserving segments of the society, said that press release.
Apex Committee decided that:High altitude porters, high altitude guide and high-altitude porter guide shall be trained in Rattu Snow School from March with the collaboration of FCNA who will be properly certified by Rattu Snow School and the Tour Operators and associated companies shall be bound to hire the certified porters, guide and porter guides.
Home Department GB shall finalize the boundary dispute between Hunza and Nagar in consultation with both Deputy Commissioners within one week's time.
The Apex Committee has also appreciated the "efforts taken on land reforms" and the "Land Reform Cell was directed to expedite the paper work so that this long pending issue is settled at the earliest."