Gilgit-Baltistan's Power Crisis Worsens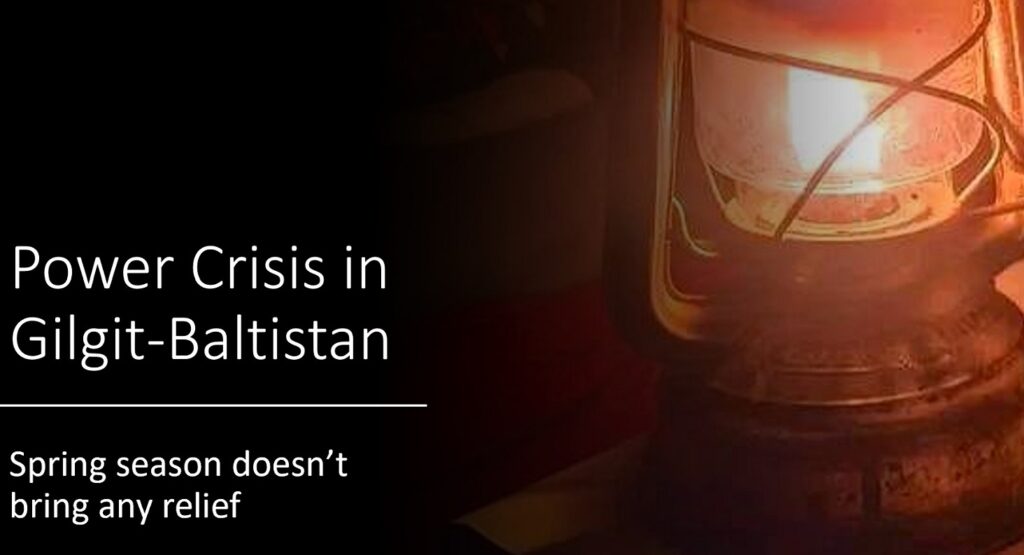 ---
GILGIT: People across Gilgit-Baltistan, except for a few small pockets, are hit hard by the crippling power crisis that refused to dwindle despite the arrival of late spring. Major cities, like Skardu and Gilgit, on average, receive up to 20 hours of load shedding every day. Remote valleys and far-flung areas are also either engulfed in darkness or rely on diesel-generators, lantern burning Kerosene oil or natural gas, and candles.
During a recent poll conducted by Pamir Times, over 80 percent of the around 500 respondents said that their regions were suffering from up to, or over, 20 hours of loadshedding.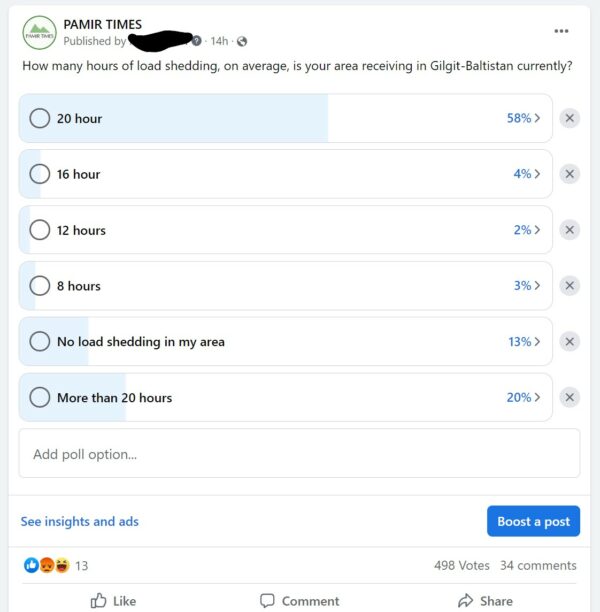 "The situation is so bad that we cannot iron the cloths of our children and they have to wear crumpled uniforms to school", said a resident of Gilgit city, the region's seat of government and administration.
Throughout the autumn, winter and now, spring, locals have protested the shortage of electricity in the region.
The situation is usually grim during winters for the last many decades because the hydro-power plants can't operate at full capacity due to extreme cold conditions. In the past, however, the situation used to get better with the arrival of spring, as melting snow and ice provided water to run power plants.
This year, the region is already in late spring and early summer, depending on elevation of localities, but the power crisis has worsened.
Successive governments in the region have failed to develop a sustainable mechanism for power generation and distribution in the region. Knee-jerk reactions and populist rhetoric or tactics are often employed to quell the agitating masses, without addressing the deepening crisis, partly exacerbated by promotion of tourism in the region.
Hundreds of small and large hotels and commercial markets have been developed in the region by the locals and outsiders to cater to the tourism industry. However, this unplanned growth has strained the local resources, leading from one crisis to the other.
Gilgit-Baltistan has massive potential to generate electricity from the elements of nature, including water, sunlight, and wind. The federal and regional government have failed to utilize any of these resources available in abundance in the region. Poorly planned, hazard prone and poorly maintained hydro-power projects have failed to address the region's growing power demand, hitting the region's economic potential, while also making life harder for the already disenfranchised people of the region.