Walk held to increase enrollment in government primary schools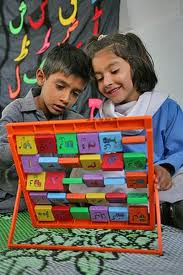 Gul Hammad Farooqi
CHITRAL: An advocacy walk was held today in Chitral town for increasing enrollment ratio in government primary schools of Chitral. The walk was led by Muhammad Ashraf, president of the All primary Teachers Association (APTA).
Students from different educational institutions carrying banners inscribed with message to enroll children in Govt schools walked through various bazars and converged at govt. primary school Chitral town.  Students of different classes presented recitation from the Holy Quran, Naath Sharif, national song and also participated in speech competition in English and Urdu. Some teachers of government schools also admitted their children in Govt. Schools and kicked enrollment campaign as well as to motivate the public to enroll their children in these schools.
Addressing on the occasion the speakers said that highly qualified and well trained teachers are teaching in Govt. schools but unfortunately check and balance and accountability system is very week in our country that is why people frustrated from these schools. On the other hand teachers of private schools getting less salary as comparative to Govt. schools but owners of these schools strictly watch them and they also very hardworking due to check and balance system. They stressed upon the teachers to teach their students honestly and restore confidence of public to approach these schools. They said that every one of us should observer self accountability and perform our duty honestly.
Executive Magistrate Chitral Ziaur Rehman was chief guest on the occasion while the ceremony was presided over by Muhammad Afzal General Manager National Commission for Human Development (NCHD). A large number of students, teachers and social workers attended educational walk and function.