Chitral: Dismayed by WAPDA's apathy, people restore water channel of Singor Hydro Power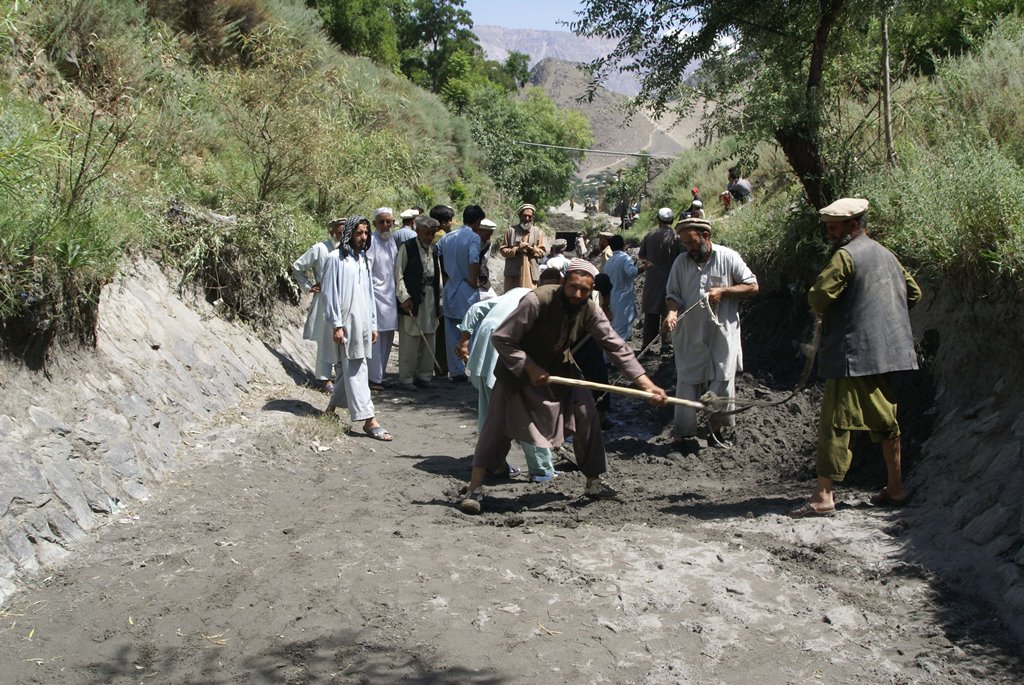 Gul Hammad Farooqi
Chitral, June 28: Water channel of Singor Hydro power house was damaged on 19th June, leading to suspension of electricity supply for at least ten days. The destruction of the water channel also affected irrigation and people had started worrying about the future of their crops, because the water is also used by residents of Singor, Shahmiran and Balach for agricultural purposes.
Despite repeated request to WAPDA power supply could not restore the water channel after passing more than one week so the resident of the area in an emergency meeting at square Mosque decided to start work of maintenance of water channel on self help basis, voluntarily.
Hundreds of people from Sinor, Shahmirandeh and Balach started work of distillation and removing stones and sand from water channel using for power house as well as to irrigate their land.  Assistant Commissioner (retired) Miftahuddin said that due to apathy of WAPDA they were compelled to work on self help basis to restore water channel not only for power house but to irrigate our cultivable land because our crops are badly damaging due to no water. Hence local people complained that when water channel of local hydro power station damage so residents of Singor, Shahmirandeh and Balach working on volunteer basis to restore water channel as well as they badly affecting due to lack of irrigation water and no body from other area participate in this campaign. But when electricity supply is restore Peshawar Electricity supply company (PESCO) deprive these affected people  from electricity and supply power to Bazar area as well as to officer colony and influential consumers.
A number of local people also complained that some 57 staff are working in this power house but despite passing of 9 days there is no progress. Resident Engineer Siar Khan told this scribe that we are trying of our best to restore power supply as well as irrigation water to the area immediately because standing crops of the people are drying. Due to hot weather people badly affecting because of no electricity as power supply from national grid station Dir is also suspended due to fault at Lawari top.  Residents of the area demanded from ministry of water and power as well as chief executive Pescom and  Wapda power houses , Chief Engineer Warsak for intervene in this matter and to restore power supply as well as irrigation water immediately because their maize crop time is over. They also demanded that after restoration of the hydro power house electricity supply only be assure to these affected areas whose consumers participated in its restoration on volunteer basis instead of Bazar area. Otherwise they will not participate in its restoration on volunteer basis in future.