Justice Chaudhary orders his son to appear before Supreme Court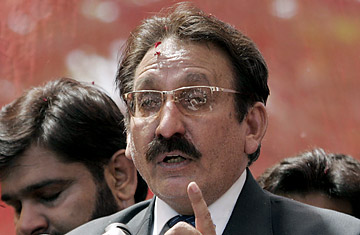 ISLAMABAD: Taking note of reports of financial impropriety circulating on various social media platforms and media channels, Chief Justice of Pakistan Mohammed Iftikhar Chaudhry sent notices to Dr Arsalan Iftikhar and Malik Riaz, Express News reported early Wednesday morning.
Malik Riaz Hussain is the chief of Bahria Town. Dr Arsalan Iftikhar is the Chief Justice's son.
A notice has also been sent to the Attorney General of Pakistan
The case is due to be heard on Wednesday June 6, 2012 (today) by a three-judge bench headed by Chief Justice Iftikhar Chaudhry himself.
The Chief Justice had taken a suo motu notice of the reports circulating and has summoned the two men allegedly involved in the matter.
Express News correspondent Faisal Shakeel reported that according to sources, the reports on which the suo motu was taken suggest that Dr Iftikhar had taken between Rs300-400 million from Malik Riaz. Shakeel said that the impression given by some of these reports was that the sum was being exchanged on behalf of the Chief Justice for disposing off cases pending before the Supreme Court.
Shakeel clarified that the case at this point in time is not against any one and once hearings start on Wednesday, would seek to establish the authenticity of the reports.
Source: Express Tribune