Malik repeats promises of ending GB's transportation woes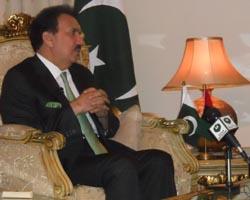 Our Correspondent
Gilgit, August 23: Federal Interior Minister, Senator Rehman Malik, has said that the Gilgit airport will be expanded to accommodate bigger airplanes. He also said that the number of flights operated between Islamabad and Gilgit will be increased to enable more people to travel safely between the two cities.
Traveling has emerged as a major concern for the 2.2 million people of Gilgit – Baltistan, in the wake of three targeted sectarian attacks on the Karakoram Highway and, recently, the Babusar Pass road.
He made the statements while briefing the media today.
He informed the press that the Chief Minister of Gilgit – Baltistan had made three demands on behalf of the affected people which have been accepted. The demands made to the federal government, he said, included provision of police escort to passenger traffic for Gilgit-Baltistan; compensation to the heirs of all those who lost their lives and increase in number of PIA flights to the region.
He also said that an inter-faith harmony conference is being held on 30th day of August.