PPP workers and leaders "rebut Abdul Akbar's allegations"

Gul Hammad Farooqi
CHITRAL, December 19:  Workers of Pakistan People's Party (PPP) arranged a press conference to condemn and deny the allegations of corruption and nepotism leveled by former MNA, Abdul Akbar..
Addressing to a press conference at the Chitral press club, Muhammad Hakim Advocate General Secretary of PPP Chitral, Bashir Ahmad political Secretary to provincial Minister for population Welfare, Burhan Shah Advocate, Iqbal Hayat president of PYO and others said that during a TV talkshow former MNA Chitral Abdul Akbar used very objectionable language and misbehaved with provincial minister Saleem Khan, which gives a very bad impression about Chitral's culture.
They said that Lawari tunnel was started with former premier Shaheed Zulfiqar Ali Bhutto and worked stopped in General Zia's regime. The excavation work was completed in Parvez Musharaf's government but its design was changed from a rail tunnel to road tunnel, while also increasing the construction cost from 8 to 18 billion. It is fact that work suspended on Lawari tunnel for 4 years but its design was changed and the construction has been resumed once again and will be completed until 2015.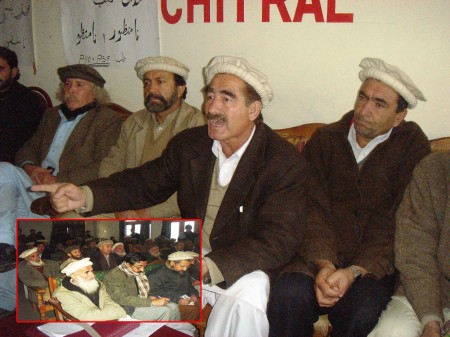 They said  that Abdul Akbar claimed that he had appointed 8000 youth in jobs which is totally wrong. They challenged that Akbar was able to prove the appointment of even 800 people MPA Saleem Khan will resign from his position.
The PPP leaders claimed that Saleem Khan had appointed 1500 people from different parts of Chitral  without any personal benefit. They termed down Abdul Akbar's allegation of getting bribes for appointments by Saleem Khan. They said that Abdul Akbar delivered wrong statement regarding the bye-pass road that some 20 million rupees have been released and work had started in MMA Government  which is totally  wrong and baseless. There was nothing in MMA government for bye-pass road and present provincial government has allocated 720 million, they informed.
They alleged that cutting of forests was started in MMA government but former MNA Abdul Akbar was silent at that time because of getting personal benefits. They said that first phase of Lawari tunnel  was completed by Parvez Musharaf and Abdul Akbar trying for getting its credit which is a cheap publicity. They said that PPP leaders have already requested to Federal Interior and Communication Ministers for opening of Lawari tunnel 4 hours daily for traffic. Responding to a question that Lawari tunnel was started in Zulfiqar Ali Bhutto regime but work stopped by General Zia why it was not resumed in Benazir Bhutto twice regime. They said that her government was ended in 18 and 23 months only.
A large number of Peoples Students Federation, Peoples Youth Organization and PPP workers were present on the occasion.