"Notables of Hunza" demand creation of two separate district in Hunza-Nagar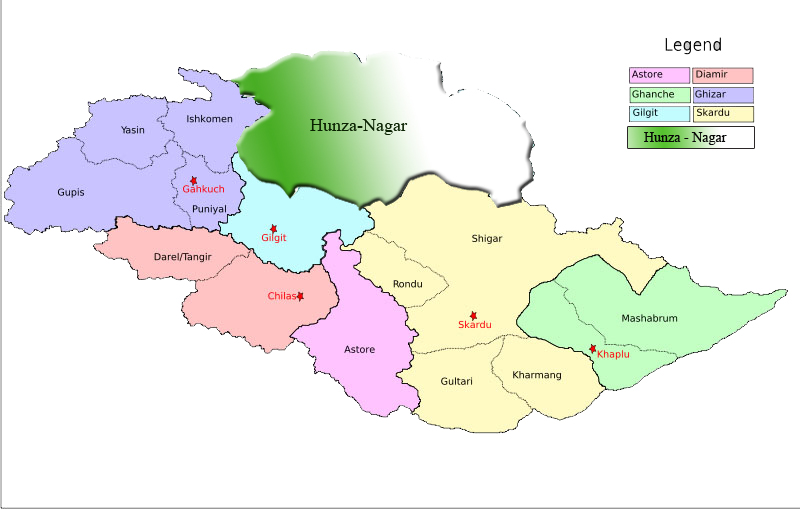 Our Correspondnet
Gilgit, February 7: Hunza and Nagar have historically been two separate states and they have enough population and resources to be divided into two separate districts, a charter of demands on behalf of the "elders of Hunza", shared with the media, reads.
The charter was read out in front of the Chief Secretary and Commander of FCNA at a ceremony held yesterday in Karimabad.
The charter further demands administrative reforms in Hunza Valley, calling for upgradation of Gojal to sub-division and establishment of two Tehsils in Shinaki and Sost.
The charter also reads that the people of Hunza Valley have been struggling to gain additional representation in the GB assembly but so far their demands have been ignored. "Ex – Prime Minister, Yusuf Raza Gillani and Qamar Zaman Kaira had assured the people of Hunza that an additional seat will be reserved for the valley in the GBLA", the charter reads, complaining that the promise was not upheld.
They have also demanded rehabilitation of the people affected by the Attabad Landslide and the damming of Hunza River, calling for quick action, because "the IDPs are living in miserable condition".
The charter also demands quick resolution of the issues being faced by the people of Mayoon and Hussainabad, in the lower Hunza region.
Resolution of the energy issues, transportation and municipality problems have also been demanded by the people.
The authorities have been urged to pay compensation to the people who have suffered due to expansion of the Karakoram Highway. The issue has been pending for more than five years.
Another major issues highlighted in the charter of demand pertains to staffing of the district departments and appointment of people on the basis of merit. They have also alleged that illegal appointments have been made in various departments, demanding cancellation of the appointments and initiation of an inquiry to unearth the irregularities, corruption and nepotism.
Charter of demand (Click to download)