Owners of NCP vehicles in Gilgit-Baltistan asked to benefit from tax amnesty scheme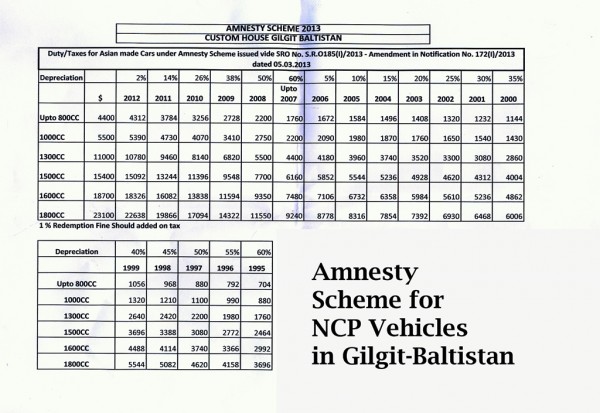 Our Correspondent
Gilgit, March 17: A tax amnesty scheme has been introduced for owners of NCP vehicles in the Gilgit-Baltistan region, in line with the amnesty scheme applicable across the country. There is no special package for the NCP vehicles of Gilgit-Baltistan.
This was stated by FBR Deputy Collector Naveedur Rehman during a press conference held in the regional capital. He said that after registering their vehicles the NCP owners can take their vehicles across the country and enjoy greater liberty. He also shared details of the amnesty scheme with the audience. He emphasized that the NCP vehicles of Gilgit-Baltistan have not been given any special package under the amnesty scheme.
The vehicle owners can get certificates after deposting the tax money in any branch of National Bank of Pakistan, the deputy collector said at a press conference, flanked by the GB Chamber of Commerce's President, Javed Hussain.
It is pertinent to note that the NCP vehicles are smuggled into the region through the Karakoram Highway and the Shandur road.
The number of NCP vehicles in the region has increased considerably during the last decade.
The amnesty scheme is likely to facilitate owners of vans, cars and other luxury vehicles. A large number of NCP vehicles are also being used by government departments and officials.