Parents' and Results Dday celebrated in Kalasha Dur School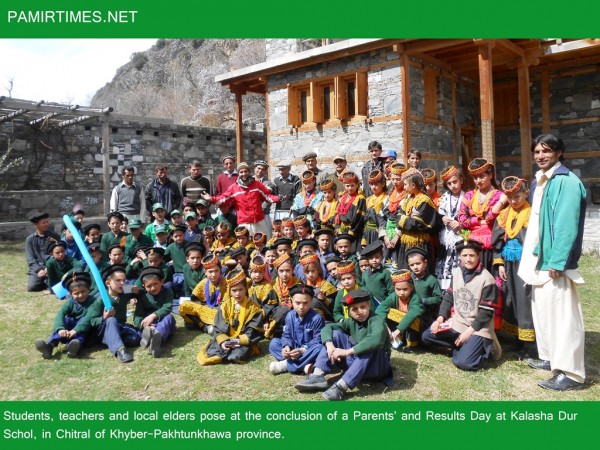 Press Release
Kalash, March 31: Speakers at a Parents and Results Day in a local private school highlighted the issues of education in Kalash valleys Chitral district. Speakers have are appreciated efforts of local school for providing quality education. A press release issued on Saturday said that the occasion was aimed at encouraging students at primary level to achieve quality education.
Calling attention to the situation, parents, teachers and social activists stressed the need for politicians to make a commitment to ending the education problems.
During welcome address Mr. Karim a teacher gave briefing to parents, students and announced results of primary student of the school. According Mr. Karim the 5th grade students at Kalasha Dur obtained 95 percent success result. The results were prepared by government high school, Mumuret.
Talking to students Mr. Sher Mohd, ex. Councilor minorities at union council Ayun, said, "I am very happy that the teachers at Kalasha Dur are more committed to their job and the students have proved that they are getting quality education.'' He also announced cash prize for the students and teachers on the occasion.
Since last few years Kalasha Dur School is playing an active role for promotion of quality education in Kalash valleys. The institute is named as Kalasha Dur private institute of tradition and culture. The first school in Kalash valleys that is promotes mother tongue education for primary children.
Kalash Dur staff was arranged gifts for position holders and unique thing about the celebration was that they staff have encouraged regular students as well. They students having good performance in attendance was given rewards.
We are working hard to impart quality education says Mr.Bakhtawar Shah Head master of Kalasha Dur school. He said that our institute has produced good and competent students in the valley and I am very happy to see their progress''.
The best school in the valley is Kalasha Dur said Mr Imran Kabir.He said everyone in the valley is talking about the Kalasha Dur institute it makes us very proud'' He encouraged the students that they are part of a well-known institute and their teachers are doing great job.
A senior teacher Mr. Sher Alam said that ''my flowers and lovely kids your really awesome that your studying in a peaceful and dynamic environment. He added ''when I was studying, there was no school in the valleys and I move to different part of the city and you're lucky kids getting education at your door steps''.
It was great to be part of the celebration says Mr. Luke Rehmat district network coordinator of Alif Ailaan education campaign. Mr Rehmat highlighted importance of education and appealed everyone to ask their parents and friends to vote for candidates that promised to make education their priority. He said that ''education is only tool to make progress in the country and its only possible when every child ensured to enrolled and provided quality education''.
Mr. Rehmat said ''its high to demand for education from politician and make sure that everyone would ask election contestants to ensured implantation of article 25 (A) (The State shall provide free and compulsory education to all children of the age of five to sixteen years in such manner as may be determined by law)
Concluding the day Mr. Mirza Mass elder and well-known personality of Kalasha community thanked everyone he said that '' I am very grateful to teachers and especially Mr. Athanasius for supporting Kalasha tradition and providing opportunity to students at their door steps'' He added '' I am very old now but still coming to school to teach my students Kalasha tradition as an oral subject I am very grateful to Dezau (Creator) for giving me strength'.'