Chief Minister Gilgit-Baltistan and key cabinet members campaigning for PPP candidates in Islamabad and Sind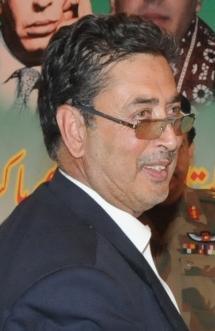 Arif Naveed
Islamabad, May 3: Chief Minister Gilgit-Baltistan, Syed Mehdi Shah, and key members of his cabinet have started campaigning for PPP candidates in different parts of the country. The Chief Minister himself has been tasked by the party to campaign for Barrister Mustafa Nawaz Khokhar, who is contesting for the national assembly from Islamabad. He told a group of journalists in Islamabad that all efforts will be made to ensure victory of the party candidate.
Talking to party leaders from Islamabad who called on him, the Chief Minister said that Pakistan Peoples Party is the only Pakistani party which has worked for the welfare of the masses. "We will win the coming election based on our performance", he said.
Other key members of his party who have been tasked to attend and manage election campaigns include Muhammad Ali Akhtar, Finance Minister, Muhammad Jafar, Minister for Food and Agriculture and Engineer Ismail, Minister for Local Bodies.