"Proud to have a brother like Mirza Ali", says Samina Baig at a reception dinner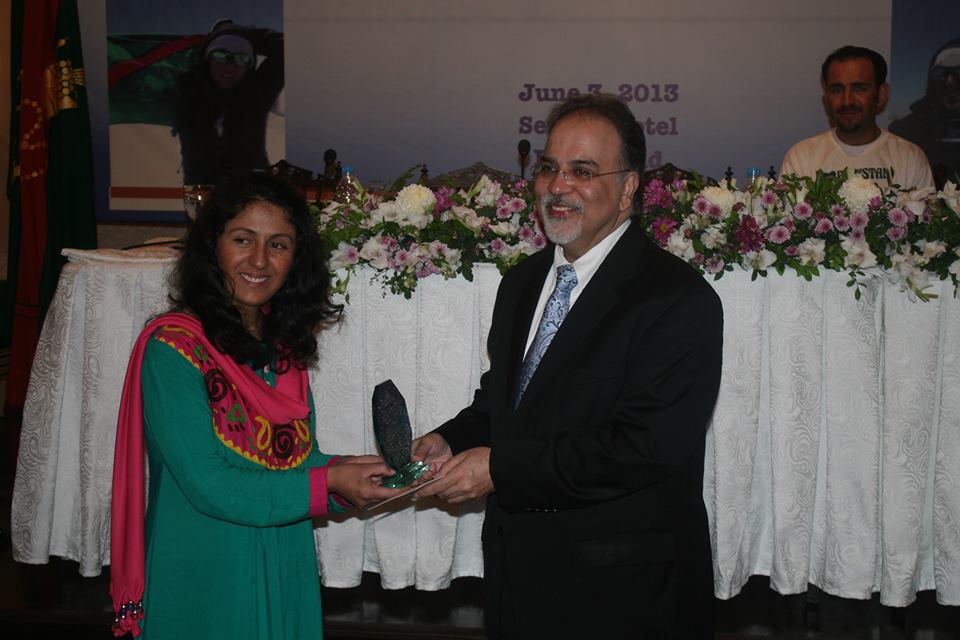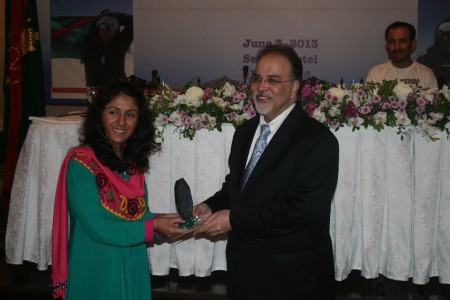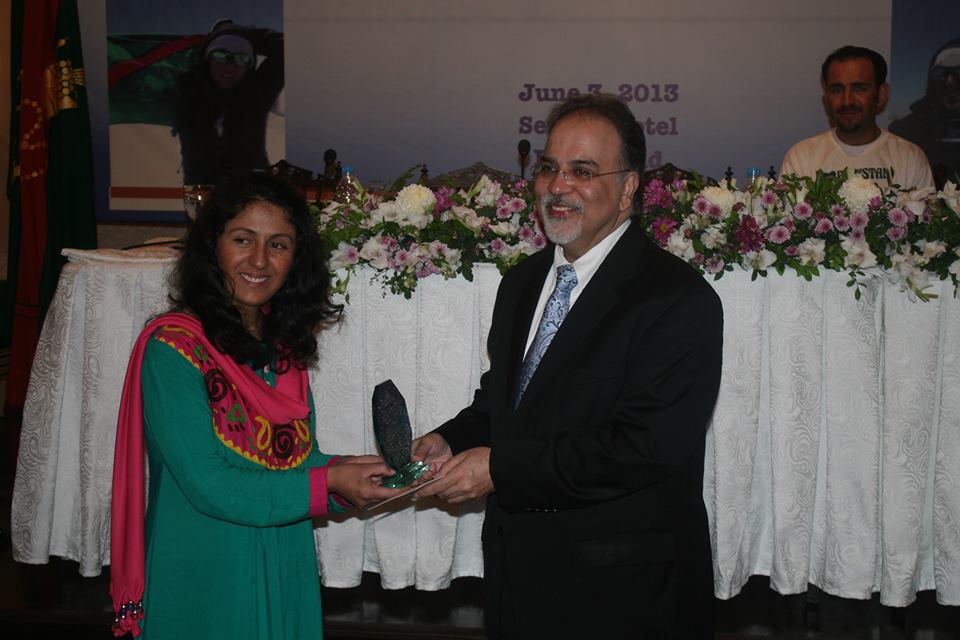 Our Correspondent
Photos: Sherzaman Gulzaman
Islamabad: The first Pakistani woman to climb Mount Everest was honoured by His Highness Prince Karim Aga Khan Shia Imami Ismaili Regional Council for Rawalpindi, Islamabad, Mardan Areas and Aga Khan Youth and Sport Board at Serena Hotel.
The reception was attended by Mr. Iqbal Sadruddin Walji, President of the Ismaili National Council for Pakistan, Dr. Firoz Rasul, President of the Aga Khan University, Mr. Shamez Mukhi, Chairman of the Aga Khan Youth and Sports Board for Pakistan and Mr. Aziz Shariff, a USA based philanthropist and investor, who had especially flown in to greet and meet the young mountaineer duo. A large number of community leaders from Islamabad and Rawalpindi were also present at the occasion.
President Walji congratulated Samina Baig for creating history by becoming the first Pakistani woman to climb the Mount Everest. He also paid rich tributes to the parents and siblings of Samina, especially Mirza Ali, for creating the opportunities to help Samina materialize the great feat. He said that without commitment and determination such achievements are impossible. He also hailed Mirza Ail for training and mentoring Samina for mountaineering.
Speaking at the occasion President Dr. Firoz Rasul of the Aga Khan University paid glowing tributes to Samin and Mirza for their success. He said that Samin has become a source of inspiration for the women and girls of Pakistan.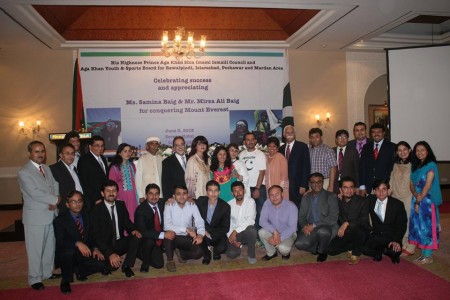 Mirza Ali, in his address, gave details of his engagement with the world of mountaineering, as a climber and an organizer of mountaineering expedition.
He said that as citizens of Pakistan, the youth of the country should remain loyal to the state and they should use their energies and expertise to excel in the fields of their choice. He also urged the men of Pakistan to stand by the women and offer them helping hand whenever required.
He also explained that mountaineering for him is not merely a source of adventure and personal gain. "I have been using adventure sports to promote the notion of gender equality", said Mirza.
Later, Samina Baig thanked the people for showering her with love and respect. She said that without the support of her brother she may never have been able to summit Mount Everest. "I am proud to have a supportive brother like Mirza Ali", Samina said. She was given a standing ovation by the audience. She said that hoisting the national flag on the summit of Mount Everest was a source of pride for her.
Towards the end Mr. Aziz Shariff praised Samina Baig and Mirza Ali and their parents. He asked the audience to give standing ovation to Mr. Khayal Baig, father of Samina and Mirza, for allowing his children the liberty to choose the paths of their life. He also announced a cash prize of one million rupees for Samina and Mirza, as a token of support towards accomplishment of their future goals.
Mementos and gifts were also presented to Samina Baig and Mirza by the leaders of the community. Earlier, the guests were welcomed in a traditional way by little artists who presented Wakhi folk welcome song, "Shoh Muborakbod".