Strike: Govt employees in Gilgit-Baltistan decide to protest cessation of 25% special pay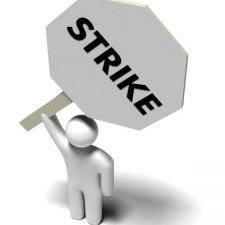 Our Correspondent
Gilgit, June 11: Employees of the Gilgit-Baltistan government have decided to go on a pen-down strike starting Wednesday, to protest the federal government's decision of ceasing 25 % special pay being paid to them.
According to details, the federal government had through a notification announced that 25% special pay being paid to the local employees of the Gilgit-Baltistan government is being ceased. According to some sources the federal government had also instructed that the payments already made to the employees should be recovered.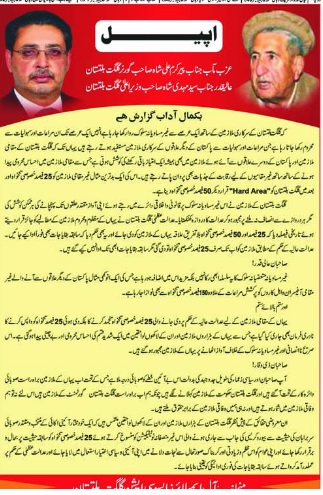 The local employees consider this to be a gross violation of their rights and an example of discriminatory treatment. The same was voiced today through a newspaper advert in which the "All Gilgit-Baltistan Employees' Association" had accused the federal and provincial government of treating the local employees with bias, while rewarding the non-local employees deputed in the region.
The newspaper advert read that the non-local employees were getting 150% more salary than the rest.
It is pertinent to note that the employees had gone to the Court against the discriminatory treatment meted to them and the Court had instructed the administration to pay the 25% special salary to them, including arrears from the past. For some time the payment was made but now it has been forcefully stopped, for unknown reasons, the Association stated.
The employees had appealed to the Chief Minister and the Governor to intervene in the situation and stop the injustice.
It has been learnt that the Tanzim-e-Asatiza Pakistan (TAP) has also resolved to join the protest drive. They have demanded of the government to take "appropriate action" against the "unlawful notification" to avoid the strike.
In a press statement today, the Chief Minister had said that no injustice will be done to the government officials. He has also asked the Finance Ministry to submit a detailed report on the issue.