Wazir Jafar criticizes Federal Secretary "for meddling in provincial affairs", demands his replacement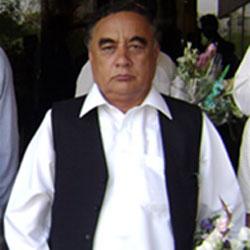 Asim Iqbal
Isalmabad: Senior provincial minister Muhammad Jaffar has blamed that federal secretary Kashmir Affairs and Gilgit Baltistan Shahid Ullah Baig is involved in conspiracies against the people of the region but the provincial government would foil all his efforts which are being made with the aim to make the people slave, once again, of federal bureaucracy.
Talking to media he said bureaucracy was planning to create food shortage in the region by reducing the wheat quota which would be resulted in unrest across the region.
"if the wheat quota is cut by the center the people of the region will be brought on roads" he threatened.
Praising the political decision of prime minister regarding Gilgit Balitistan and Azad Kashmir he said that democracy would become more strong by acceptance the people's mandate but some elements were trying to impair the harmony between the region and center.
He accused Shahid Ullah Baig of being head of "the group that wants to see the center and regional government indulge in feuds by creating differences between both governments".
He demanded of the federal government that Shaid ullah Baig should be replaced by any honest officer.