Gojal: Rise in water borne diseases leaves population of Hussaini village at risk, report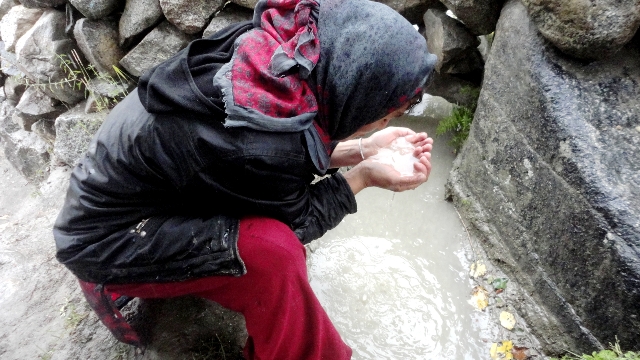 By Shehzad Ali
Hussaini, August 16: Water borne diseases are on the rise among the people of Hussaini village, upper Hunza (Gojal), posing risk to the lives of a population of 720, a majority of them children and women. The villagers have been using glacial water for drinking purpose after submergence of the spring water source by the Attabad landslide lake in 2011.
Due to non-availability of clean drinking water, a majority of the villagers drink water directly from the irrigation channel. The channel water gets contaminated after passing through polluted fields and spaces. Besides, it contains at least 30 percent sand, which has given rise to cases of kidney diseases.
Women of the village travel at least two kilometers to fetch water in cans from the irrigation channel, hence leaving several women suffering from back pain.
Diseases like sore throat, diarrhea, bad belly and typhoid are on the rise among the villagers.
The Aga Khan Rural Support Programme (AKRSP) had installed water pump and water filtration plant on the river bank of the village. However, the Attabad landslide lake submerged that too.
"I have found that every six to eight patients from Hussaini who come here for treatment on daily basis suffer from ailments that fall under the category of water borne disease," said Dr. Khadija, a medical officer at the Aga Khan Health Center, Gulmit, Gojal. "A majority of the patients are children."
The villagers have been looking out for help towards governmental and non-governmental organizations to set up a water purification plant in the village.