Workshop: WWF and Seed Project discuss management of CKNP resources



Gilgit, June 20: (PR) WWF-Pakistan, Gilgit-Baltistan conducted a two days intensive training workshop for the CKNP buffer zone communities with the aim to foster NRM best practices in the target valleys through wise use of range resources and better livestock herding techniques. The session focused on various themes related to state, use, issues of and trends in livestock and rangeland resources of GB apart from transferring knowledge and imparting skills in better management of these resources. A team of experts including Dr. Babar Khan, Head WWF-Pakistan (Gilgit-Baltistan), M. Zafar Khan, manager Conservation WWF-Pakistan, Dr. Ijlal Hussain, Deputy Director GB Livestock & Dairy Development Department, Jibran Haider, SDFO GB Forest & Wildlife Department, Javed Akhtar, Deputy Director Agriculture, Muhammad Iqbal DD Agriculture and Rehmat Ali, Conservation Coordinator WWF-Pakistan facilitated the training.   A total of 16 members from 6 different communities namely Hisper, Hoper, Rakaposhi, Sikandarabad, Haramosh and Bagrote, participated in the session.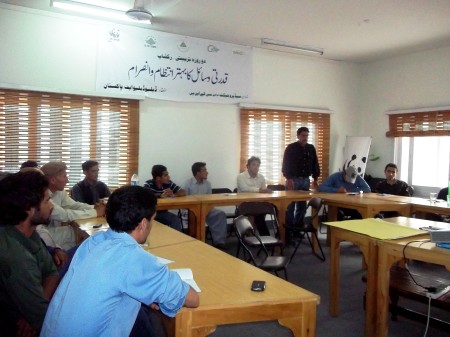 Mr. Ghulam Muhammad, Conservator Parks & Wildlife who was chief guest of the closing ceremony appreciated the efforts made by WWF-Pakistan for participatory management of natural resources of Gilgit-Baltistan and ensured full support from GB Forest, Wildlife and Parks Department in future conservation efforts by WWF and the park communities.