Less representation: People from Hunza protest in front of Gilgit-Baltistan House, Islamabad
Islamabad, January 24:  A group of people belonging to different parts of Hunza Valley staged a peaceful protest demonstration in front of the Gilgit-Baltistan House here in the federal capital. They were protesting against neglecting Hunza in the caretaker setup handpicked for Gilgit-Baltistan region.
Carrying placards, the protesters condemned 'discrimination against Hunza' and highlighted the importance of Hunza Valley for Pakistan, in terms of tourism, defense and trade.
The protest demonstration was held while the new selected cabinet was taking oath inside the Gilgit-Baltsian House.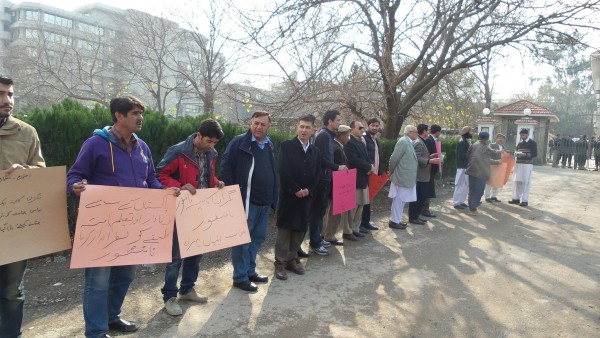 The protesters said that the formula of might is right is being followed and merit is being ignored in all sectors of the government. They said that Hunza played a leading role in liberating Gilgit-Baltistan from the clutches of Dogra occupiers and since then the sons and daughters of Hunza have always played an important role in promoting the soft image of Pakistan. However, in return the people are being ignored and pushed backward by powerful lobbies, said the protesters.
They demanded bifurcation of the Hunza-Nagar district and increment of another seat for Hunza in the GBLA, in proportion of the region's population. They said that regions with lesser population have been over-represented while the people of Hunza have been ignored.