China-Pakistan Year of Friendly Exchanges launched in Beijing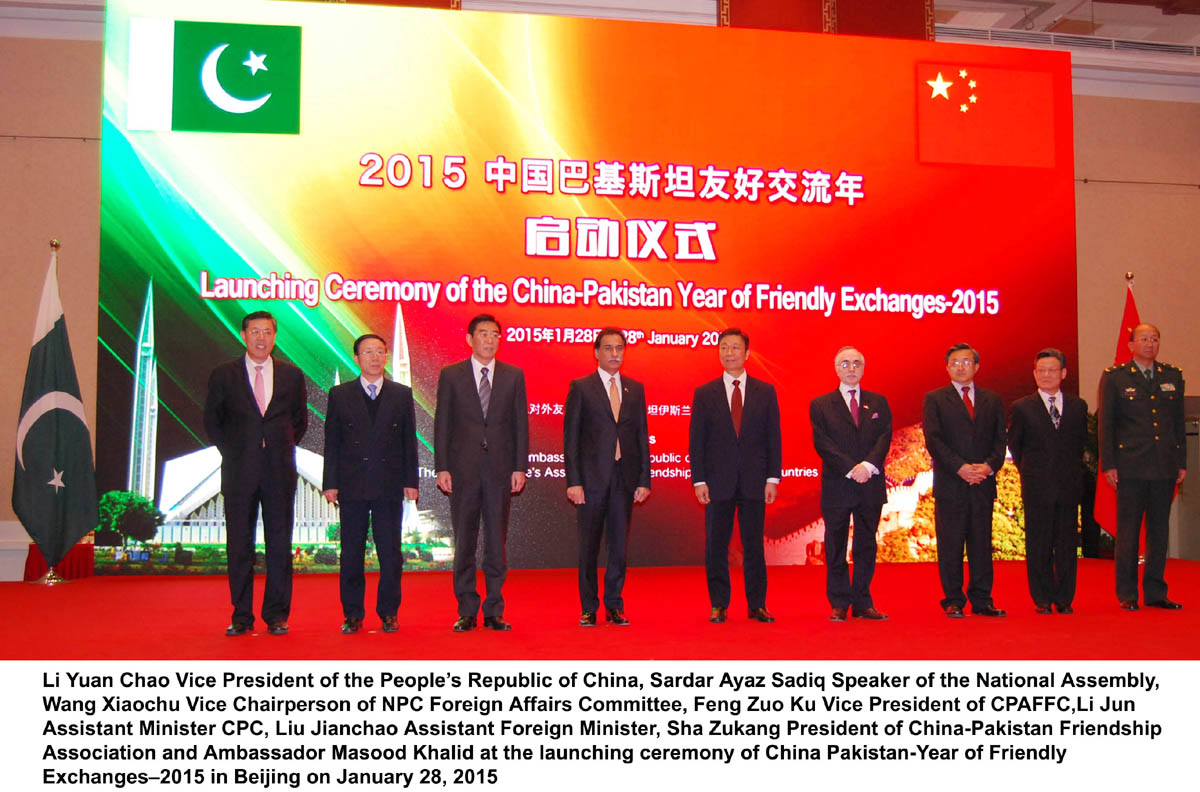 Islamabad: (PR) The China-Pakistan Year of Friendly Exchanges was launched here today at a grand reception that marked its official commencement – the first one of a series of  activities which the two friendly countries plan to celebrate jointly throughout the year.
The occasion was graced by the Vice President of China Li Yaunchao, from Chinese side whereas Speaker of the National Assembly of Pakistan Sardar Ayaz Sadiq led a delegation of parliamentarians from Pakistan, especially to attend the inauguration of the celebrations of the friendly exchanges year.
On this occasion, Ambassador Masood Khalid in his welcoming remarks said  that the "friendship was etched in the hearts and minds of the two peoples," and China and Pakistan being 'iron-brothers,' have their cooperative strategic partnership based on mutual trust that had withstood the tests of times. He said bilateral exchanges between leaders, trade volume, cultural cooperation, people-to-people contacts were at an all time high, adding that the year 2015 had made a promising start with increased interaction at all levels and a lot more to follow.
Ambassador Masood Khalid expressed his gratitude particularly to the Vice President of the People's Republic of China Li Yuanchao, Speaker National Assembly Sardar Ayaz Sadiq for their gracious presence and also to the Chinese Peoples Association of Friendship with Foreign Countries (CPAFFC) for their support in organizing the event.
CPAFFC Vice President Feng Zuoku said that China and Pakistan were good neighbors linked by mountains and rivers. Over the past 64 years since the establishment of diplomatic ties, China and Pakistan had developed a time-tested friendship. As time went by, bilateral relations had become even closer, and political foundation of friendship became more solid. 'We treat each other with sincerity, support each other and cooperate for mutual benefit, which make our bilateral friendship resonate in the hearts of the peoples,' he added.
Feng Zuoku said the CPAFFC since its establishment 6 decades ago, had made active contribution to the promotion of friendship between Chinese people and people from all over the world. In recent years CPAFFC had twice sent Chinese medical team of eye doctors to Pakistan, for China-Pakistan Bringing Light Tour program in Islamabad and Multan, provided free cataract operations to more than 1 thousand Pakistanis. Personnel exchanges and training of government employees had also been conducted. To promote bilateral relations, CPAFFC re-organized the China-Pakistan Friendship Association last year. China-Pakistan friendship was the common wealth of the people of both the countries, and concerted efforts were being planned to conduct more activities and for working together to make the friendship bear even richer fruits, he added.
A large presence of guests from the Chinese, diplomatic, and Pakistani community were present at the reception, where cultural show was also arranged for their entertainment.
Li Yuan Chao, Vice President of the People's Republic of China, Sardar Ayaz Sadiq, Speaker of the National Assembly of Pakistan, Wang Xiaochu, Vice Chairperson of NPC Foreign Affairs Committee, Vice President of CPAFFC Feng Zuo Ku, Li Jun, Assistant Minister CPC, Liu Jianchao Assistant Foreign Minister, Sha Zukang President of China-Pakistan Friendship Association and Ambassador Masood Khalid were the prominent participants at the reception.
Last February, after a meeting between President Xi Jinping and President Hussain, the Joint Statement between the People's Republic of China and the Islamic Republic of Pakistan on "Deepening China-Pakistan Strategic and Economic Cooperation" was issued, in which both sides agreed on designating 2015 as the China-Pakistan Year of Friendly Exchanges.