India-bound delegation of Kalash people looted in Lahore, passports snatched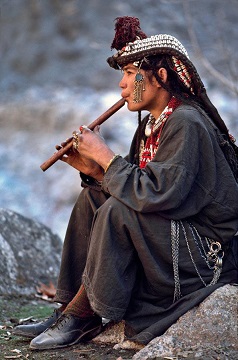 Gul Hammad Farooqi
Chitral, January 31: A delegation of  people from the Kalash tribe have been looted by unidentified people in Lahore. Their passports, laptops, other documents and valuables have been snatched. They were going to India via the Wagah border.
According to details, the 10-member delegation – 6 men and 4 women, were looted while they were going to India to participate in an international conference. Luke Rehmat, a member of the delegation, is a renowned figure in the Kalash valley, located in the Chitral district of Khyber-Pakhtunkhwa.
Wazirzada Kailash, who was leading the delegation, told this reporter that they had obtained the visas for India after a lot of difficulties. He expressed anger and disappointment at the incident. He further said that the looters knew that the delegation members were from Kalash area and were going to India. He revealed that some of the looters were in uniform, without specifying which kind of uniform.
It is pertinent to note that the Kalash tribe is an indigenous group of people living in the Chitral valley, close to the Nuristan province of Afghanistan. They have a unique religion and cultural heritage and have lived in these valleys for centuries.