PPP leaders, workers, stage protest demonstration against new governor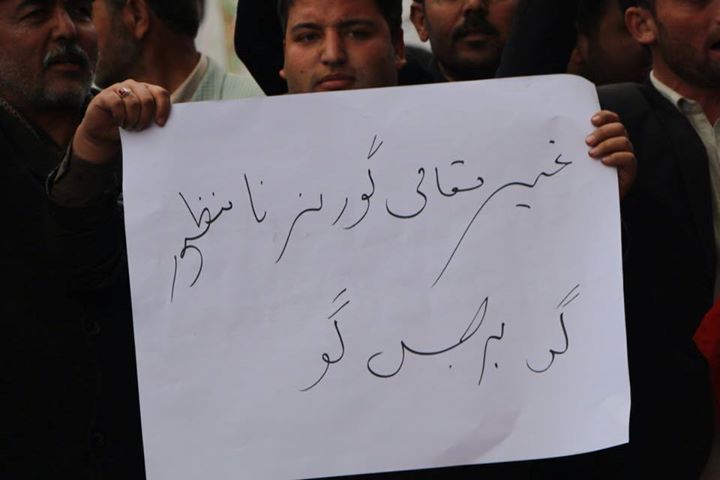 Reporting by S.U.Saqib
Gilgit: Leaders and workers of Pakistan Peoples Party staged a protest demonstration in Gilgit against the appointment of KANA Minister Barjees Tahir as the Governor of Gilgit-Baltistan. The protesters called it an action aimed at rigging the elections in the region. They demanded reversal of the decision and appointment of a neutral local as the Governor.
The enraged workers and leaders of PPP condemned the appointment and said that Barjees Tahir will be treated "with shoes" on landing in Gilgit. They said that only a local can be appointed as the Governor of Gilgit-Baltistan and that appointing a non-local, whose name doesn't appear in the regional electoral list, is a violation of the GB Empowerment and Self Governance Order 2009. They also condemned the "self-serving" amendment made in the said order.
The protest demonstration was attended among others by Amjad Hussain Advocate, who is also a member of the Gilgit-Baltistan Council. Others present included ex-minister Muhamamd Naseer, ex-MLA Ayub Shah, Dr. Bahadur Shah Gilgit, to name a few.
It is pertinent to note that the PPP had announced to challenge the appointment in a court. Similar announcement has also been made by PTI, who have vowed to "resist" the appointment.
PPP leaders, workers, protest against appointment of @BarjeesTahir as new governor of #Gilgit–#Blatistan #Gilgit pic.twitter.com/ht4VJwedkK

— pamirtimes (@pamirtimes) February 16, 2015