Syed Khursheed Shah demands removal of GB governor, Chief Minister and Chief Election Commissioner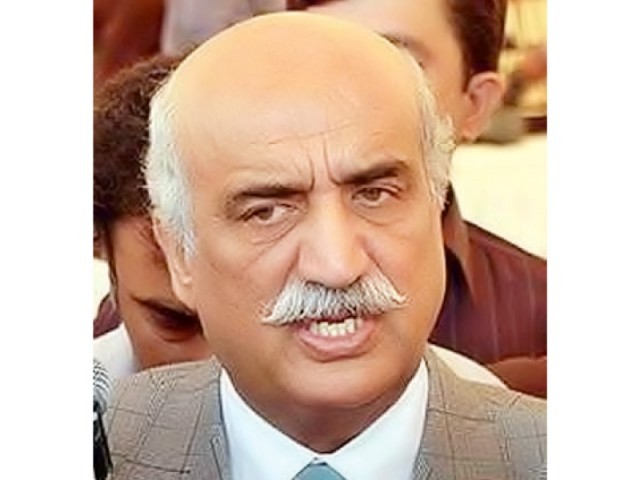 Islamabad: Leader of the opposition in the National Assembly Syed Khursheed Ahmed Shah has said that appointments made on political basis in the Gilgit-Baltistan may cause difficulties for Prime Minister Nawaz Sharif.
Syed Khursheed Ahmed Shah was talking to media at the parliament house in Islamabad
on Wednesday
.
Syed Khursheed Shah demanded that chief election commissioner, caretaker chief minister and governor of Gilgit-Baltistan who have been appointed on political basis should be removed from their offices.
Shah has said that there has been pre-poll rigging in the Gilgit-Baltistan (GB) elections and has written to the premier in this regard but has still received no answer.
"I have written a letter to Prime Minister Nawaz Sharif that there has been pre-poll rigging in the GB elections but I got no reply from him," Khursheed Shah said while speaking in his parliamentary chamber.
"This does not happen in developed country that an opposition leader writes a letter to the head of the state to which he does not reply."
Khursheed Shah said that there were countrywide protests against Prime Minister Nawaz and his government claiming that they were involved in electoral fraud in the 2013 general elections but the government has learnt no lessons.
The opposition leader said many parties have raised concerns about the appointment of the GB governor.
He said that caretaker chief minister and chief election commissioner are workers of Pakistan Muslim League-Nawaz (PML-N), saying that as to how federal minister was appointed governor Gilgit-Baltistan.
He said that it cannot be done under presidential order 2009; saying that Qamar Zaman Kaira was appointed on the post when there was not presidential order 2009 and new system was not there. He said that route of Pak-China economic corridor was changed.
He expressed expectation that dialogues are likely to be resumed soon between Pakistan Muslim League-Nawaz (PML-N) and Pakistan Tehreek-e-Insaf (PTI).