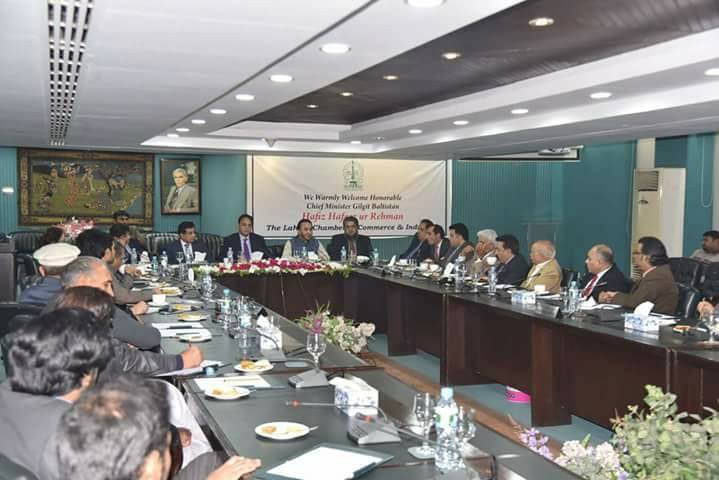 LAHORE: Chief Minister Gilgit-Baltistan Hafiz Hafeez-ur-Rehman has invited the private sector to join hands with the government of Gilgit-Baltistan and start flight operation for this area.
While talking to the LCCI President Malik Tahir Javaid, Senior Vice President Khawaja Kharar Rashid and Vice President Zeshan Khalil, Chief Minister Gilgit-Baltistan, he said that Gilgit-Baltistan is abundant with huge opportunities in tourism, energy and infrastructure sectors.
He said that PIA operation for Gilgit-Baltistan is not enough to cater to the needs therefore private sector should come forward and avail this opportunity. Former LCCI President Mian Shafqat Ali also spoke on the occasion.
He said that China Pakistan Economic Corridor (CPEC) has generated lucrative investment opportunities that must be availed by the local investors. Under this project industrial and economic zones are being established which will create ample employment opportunities for the people of this area.
On the energy sector, CM GB said that Gilgit-Baltistan is not linked with the national grid which is the major hurdle of taping the power generation potential. He said that GIZ and WAPDA have identified the potential of 40,900 MW through feasibility reports. He said that establishment of first grid in Gilgit-Baltistan is at tender stage.
He said that no serious work had been done in past for Diamir Bhasha Dam but now situation is quite different. He said that land acquisition for Diamir Bhasha has been completed through transparent way. All record in this regard is available in this regard and a huge amount of Rs. 12 billion is saved through transparency. He said that Diamir Basha, Bujni and Dasu would generate 4500 MW, 7500 MW and 5000 MW of cheap and environment friendly electricity of respectively that would reduce the oil import bill.
The LCCI President Malik Tahir Javaid said that the region of Gilgit-Baltistan has immense importance in geo-economic and geo-strategic terms. Geographically, Gilgit-Baltistan shares borders in the northeast with China, in the extreme north with Wakhan corridor of Afghanistan, in the west with KPK province and in the south and southeast with Azad Kashmir.
Courtesy: Online International News Network