Anniversary of ZA Bhutto and Obituary of Education in Rural Sindh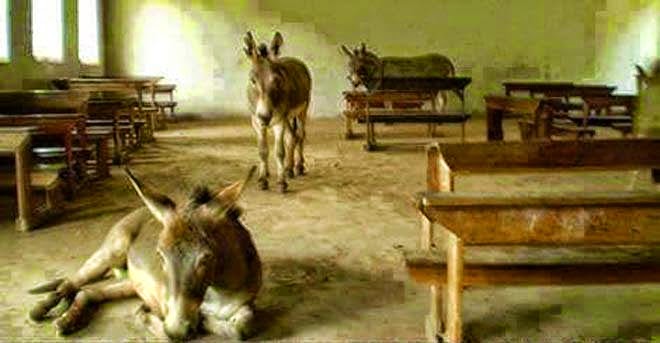 By Fida Karim
The Sindh province has always remained the center of educational excellence and scholarship, rich civilization and ancient cultural heritage. During my affiliation with different organizations, I have been to almost all parts of Pakistan but I have never ever seen the level of religious tolerance as is evident in Sindh province of Pakistan. Wherever i went to field and socialized a bit with local communities in different parts of Pakistan, they used to ask one question first after asking my name; that is, whether i am a Sunni or Shia or non-Muslim. But Sindh is the sole place where people are more interested in cast and creed. As such, their second questions happen to be about my cast and creed not about my sect. I still remember that only one time someone asked about my religious affiliation in Kandhkot Northern Sindh-that too was asked just because of his misunderstanding.
I have observed that behind all this religious tolerance in Sindh is just because of two main reasons: absence of religious seminaries along and teaching, and great influence of Sufi saints like Lal Shahbaz Qalandar, Shah Abdul Latif Bhittai, Abdullah Shah Ghazi and others mystic personalities who have always been preaching for humanitarian principle, pluralistic values and unity in diversity in Sindh.
After meeting with one of a famous Sufi singer of Sindh Ms. Abida Parveen, when I visited the shrine of Jhulay Lal, a famous Sufi saint, whom both Hindus and Muslims revere equally, I was stunned to see a Hindu temple and a Muslim shrine-like building built on the same premises. People from both schools of thought visited the shrines.
How was it possible that people hailing from two diametrically opposite creeds came and prayed in the same building? And, no communal feud ensued?
But that is Sindh; a timeless land with a history of religious tolerance, nurtured by the poetry and teachings of its Sufi saints and mystics. In today's Pakistan where religious extremist and terrorist are on the rampage, the beautiful instances of peaceful coexistence can only be seen in areas like Mitthi Sindh, where a Hindu fasts and a Muslim does not slaughter cows in respect of each other's beliefs and traditions.
But during recent years some cases of forced conversion, religious intolerance along with suicide bombings on religious centres and places of worship have been reported especially Rural Sindh. This phenomenon has gradually started to ravage this unique fabric of Sindhi society. Therefore, it is high time for all the concern citizens of Sindh to play their due role to protect their ancient tradition of peaceful coexistence along with respect for humanitarian principle, pluralistic values and unity in diversity.
It is suggested to keep an eye on the hatemongers, religious extremist and non-state actors who are slowly penetrating in every nook and corner of Sindh to poison your society with their anti-social and hate mongering tactics and enticing preaches.
Same is the case with rich cultural heritage and ancient monuments and historical sites in Sindh. Sindh province of Pakistan is home to nearly 3000 sites and monuments, of which 1200 remain unprotected. Ruins of old city, Buddhist Stupa in Guja Hyderabad a few miles from Tando Muhammad Khan, Ranikot Fort in Jamshoro, Kot Diji Fort in Khairpur, Moenjodaro in larkana, Jain Temple in Nagarparkar, Kalka Cave Temple of Arore near Rohri Sukkur and other forts along with Necropolis of Burfats in Taung ThanaBula Khan Jamshoro.
 The ancient city of Mohenjo Daro and Makli needed along with other historical forts needed immedate ittention of Sindh Government as it is crumbling away. Same is the case with Necropolis of Burfats in Taung as i have seen a number of pieces of Necropolis of Burfats in Sindhiology Department at University of Sindh. It is simply note a wise move from the said department of Sindh University to deface these historical sites by taking pieces from historical sites like necropolis of Burfats to showcase them at their department.
 It is need of the hour to protect and restore the rich cultural heritage of sindh as it can definitely help in reviving economy along with pride and identity of local communities through interventions in cultural heritage that supported social, physical and institutional development as it happened in resource poor areas in Gilgit-Baltistan.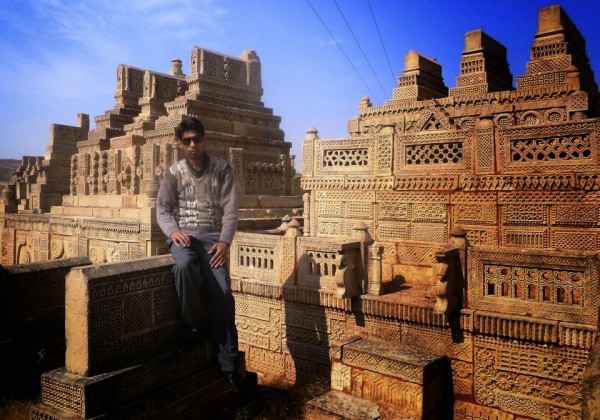 Ghost Teachers and Indifferent Community are also one of the main factors which make rural Sindh an unparalleled province in Pakistan. According to then Sindh Information Minister Ms. Shazia Marri, during the year 2012 the Sindh govt was spending over Rs10 billion on ghost employees annually including 381 dead staffers. The report further unveiled that a1,264 government employees were doing dual jobs and also taking two salaries from the treasury. According to latest media reports, this figure has dramatically increased to 40,000 ghost teachers and 5,600 ghost schools in Sindh.
To make the matter worst, the people of Sindh are still in deep slumber. Therefore, they are still raising slogans like GA Bhttoo, GA Benazir and GA PPP instead of raising their voices for their basic rights, like right to quality education, health and decent employment opportunities.
Now the situation is such that in 2012 there happened to be goats in some schools. Now there are donkeys inside schools. On the basis of the ground realities and performance of PPP, one can easily infer that the days are not far away when the schools in Sindh will "graduated" to give "admission" to dogs in near future.
The report on second annual education rankings and the pictures in the given bellow shows a gloomy outlook of education in Sindh. I wonder how long the people of Sindh will be fooled in the name of a particular name, ideology and party. Let's wake up otherwise it will be too late to secure the future of your children and coming generation in this highly competitive and meritocratic society.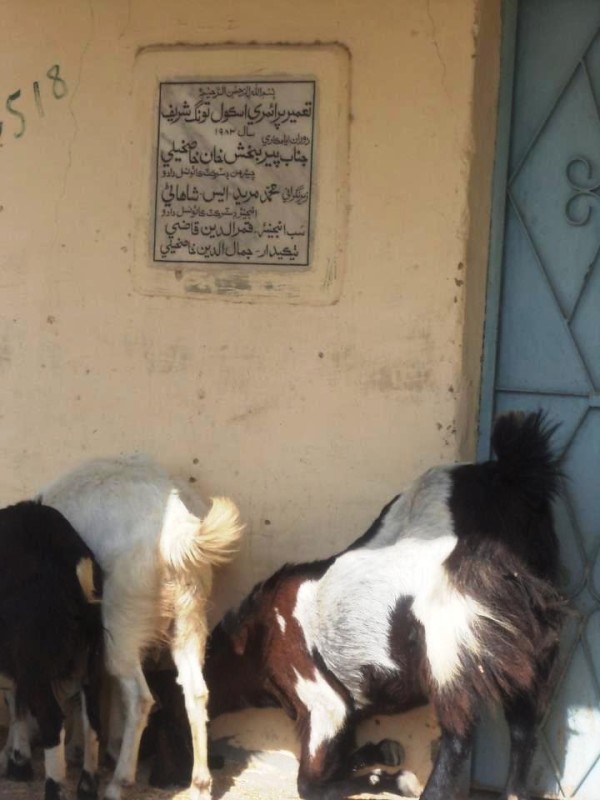 I had taken this picture in the home district of then Education Minister Sindh Mr. Pir Mazharul Haq in Dadu Sindh on 8th September 2012.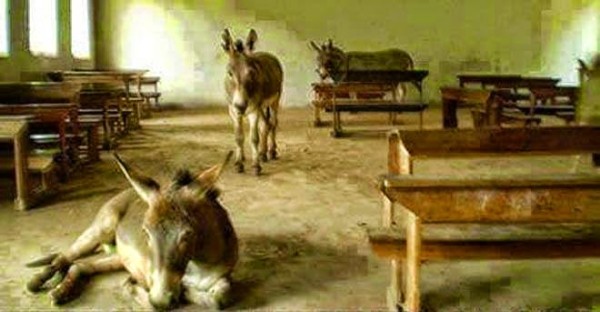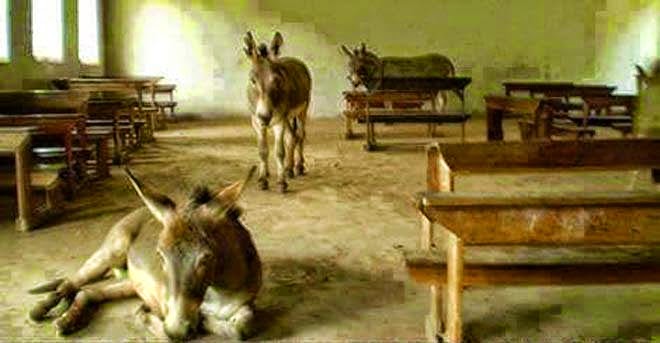 This is the latest picture showing "impact" of education friendly policies of PPP government in Sindh. In 2015 "admission" has been given to Donkeys after "graduation" of Goats admitted in 2012.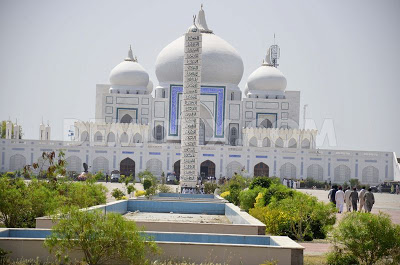 Everyone respect ZA Bhutto in Pakistan for his leadership skills. But the bitter fact is that after Bhutto, the heirs of Bhutto have done nothing to secure the future of the children of Sindh. They have built castles and tombs in the name of Bhutto instead of schools. And the people still remain without Roti, Kapda and Makan.