Four FMFB clients, including two GB women, win Micro-entrepreneurship Awards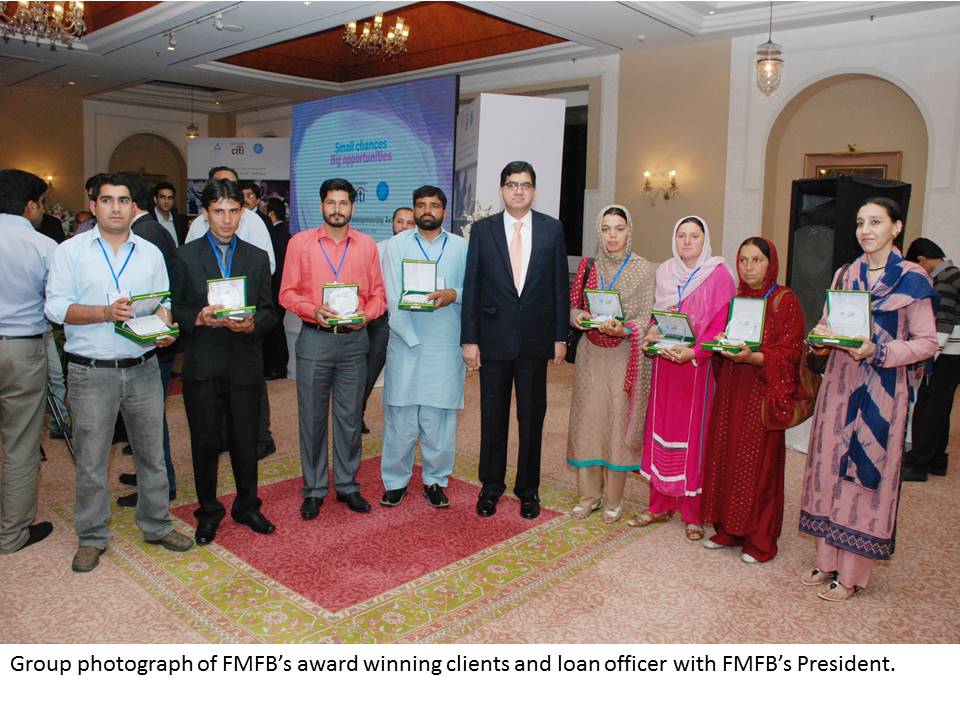 Islamabad: Four clients of The First MicroFinanceBank Pakistan (an institution of the Aga Khan Agency for Microfinance) received awards for their entrepreneurial skills at the 9th Citi-PPAF Micro-entrepreneurship Awards held recently. Mr. Ahsan Iqbal, Federal Minister for Planning and Development along with Mr. Adriano Chiodi Cainfarani, Ambassador of Italy in Pakistan were the Chief Guests for the occasion.
FMFB-P's clients Sabir Shah from Gujranwala won the runner-up award under the "National Micro-Entrepreneur Award – Special Category" at the Citi-PPAF Micro-entrepreneurship Awards and was awarded a cash prize of PKR 180,000. Another FMFB client, Afsar Ali hailing from Karachi won the runners up Young Entrepreneur award. Nargis Bibi from Ghizer, Gilgil Baltistan won the Regional MicroEntrepreneurship Award while Bibi Rano, resident of Hunza, Gilgit Baltistan was the runner-up in the regional category.
Ten years ago, Sabir Shah was working as a labourer on daily wages when he met with a horrific road accident. The accident left him badly injured and his left arm had to be amputated. Despite his limitations, Sabir decided to find a way to earn a living and become financially independent. He took a loan of Rs. 10,000 from The First MicroFinanceBank (FMFB to purchase a donkey-cart for transporting construction material from warehouses to the construction site. Presently Sabir has two employees and earns a decent income which has helped him give his four children a stable family life. Sabir Shah, while sharing his views said that "I am thankful to FMFB for supporting me in my business. Through this award, I want to inspire others and tell them that physical disability is not an impediment to success. If one works hard with passion and determination, one can become a productive member of the society."
Soon after her marriage, Nargis Bibi had problems bringing up her family as her husband was unemployed. She attained training from the Aga Khan Rural Support Program (AKRSP) before getting a loan from FMFB. Today, Nargis Bibi runs a successful tailoring and a handicraft business in Chatorkhand, Ghizer. She also runs a vocational training centre that has enabled many females in her community to be productive members of society. Upon receiving the award, she said "Coming from a culturally sensitive rural background I feel really proud to receive the Regional Entrepreneurship Award. This award has motivated me to further strengthen and expand my business and lead other women of my area to start entrepreneurial ventures. The loan from FMFB coupled with the encouragement and guidance I received from my loan officer helped me establish market linkages and expand my training centre."
The objective of the Citi-PPAF Micro-entrepreneurship Awards Programme is to illustrate and promote the effective role that micro-finance plays in poverty alleviation. It recognises the extraordinary contributions that individual micro-entrepreneurs have made to the economic sustainability of their families as well as their communities.