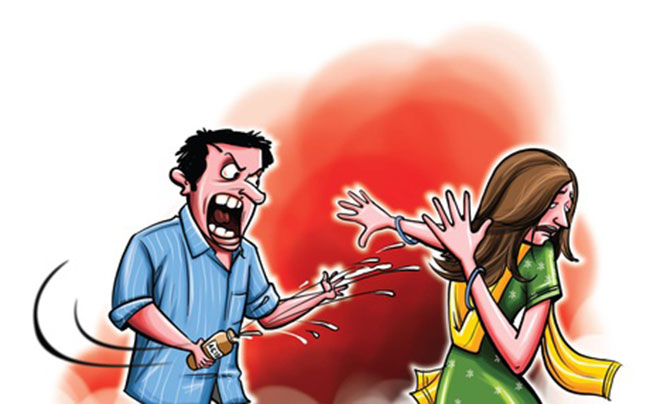 Rabbia Aamir
Razia was my 22 years old maid. With a head full of thick black tresses, a well-proportioned figure and fair complexion, she did not look like a maid at all. She looked like a normal college girl with eyes glittering with countless dreams. She also knew how to carry herself and my old cotton suits looked better on her than me. She was an utterly hopeless chatterbox and her loud full of life voice followed me everywhere. The girl was in love with her cousin, a carpenter in Saudi Arabia, Soodia as per Razia. The marriage was planned for the end of 2014, when tragedy struck. I was in college when my mother informed me on telephone, 'somebody has thrown acid on Razia's face. Her parents have taken her to the hospital'. Still in shock, I reached the hospital and was finally able to trace Razia and her parents in the verandah of the Burn Ward. She was unconscious and was covered with a white gauzy sheet. When her weeping mother removed the sheet it was like she drew back the curtain from hell. Gone were the thick fragrant tresses and gone were the sparkling eyes. Less than a dollar worth of acid destroyed a complete person in seconds.
Razia is still alive today but unmarried, victim of the dark jealousy of a local counsellor's wayward son. 'Thanks God her life was saved', my mother occasionally sighs, but I fail to see the optimism in that hideously deformed face. As expected, the deformation did not just touch the face but penetrated deep inside Razia and scarred her soul forever. Last Tuesday we were out for the weekly grocery shopping with Razia covered in cheap dark glasses and a burqa. Suddenly I heard her screaming hysterically. My heart stopped for a moment fearing another catastrophe. I looked back and saw Razia sitting on ground, folded into herself with her hands in front of her face. I looked around but failed to notice anything out of ordinary. 'Razia….come to your senses child, what is wrong?' I shook her shoulders. 'Baji, please save me from him. He is going to throw acid on my face'. I looked up and saw a middle aged man, sheepishly holding a mineral water bottle in one hand, trying to gauge the situation. I tried to calm down Razia but she refused to budge from the spot until the man hurried away.
Razia was the direct victim of an acid attack. The torture and agony she went through and still suffers every day are unmatchable. Her reaction is natural and expected. But I sometimes feel amazed on the impact the incident had on the people around her. Her father delivered lunch to government officials in Secretariat during day and was a hardworking security company employee during day. He was famous for his jolly personality and warmth. He still does both the jobs but is more like a zombie, quiet and preoccupied all the time. Her mother and sister continue to work in their signature hardworking manner but look eternally frightened with wide haunting eyes. And I see myself, secure in my false belief and trust in the world around me before this incident, but now, scared shitless and constantly on guard. Less than a dollar worth of acid touched and transformed more than one life in seconds.
Razia is not alone in her tragedy and misfortune. According to a recent estimate by the Aurat Foundation, Razia is one of more than forty victims. Forty seems to be a paltry figure in a country like Pakistan where human life and casualty carry a negligible weight. But I have been close to this tragedy. I have seen what a dollar worth of acid can do to a girl and her family. Besides suffering the greatest possible physical agony and pain, a girl remains unmarried, which in Pakistan means social death. With hideous scars deforming her face and hands, a girl is never able to gain respectable employment, which in Pakistan means poverty and hunger. Plastic surgery is costly and it can never repair fully the damage incurred by a few drops of acid. And in the absence of a valid psychological support or counselling mechanism, a victim is eternally haunted by a world dominated by men.
It is high time that the government addresses the issue through the introduction of harsher punishments. I for one firmly believe that death penalty is the only suitable punishment. Only the fear of a possible capital punishment may deter our patriarchal society to leave a woman alone and empower her with an independence to make her own decisions and live her own life. We, the Pakistani women, have all the rights to be free of the threat of disfigurement and psychological and emotional scarring at the hands of a few careless and cruel men. These rights are not only accorded to us by the so called international organizations like the United Nations but also the Almighty and his many religions.