Heavy flooding in Upper Hunza damages infrastructure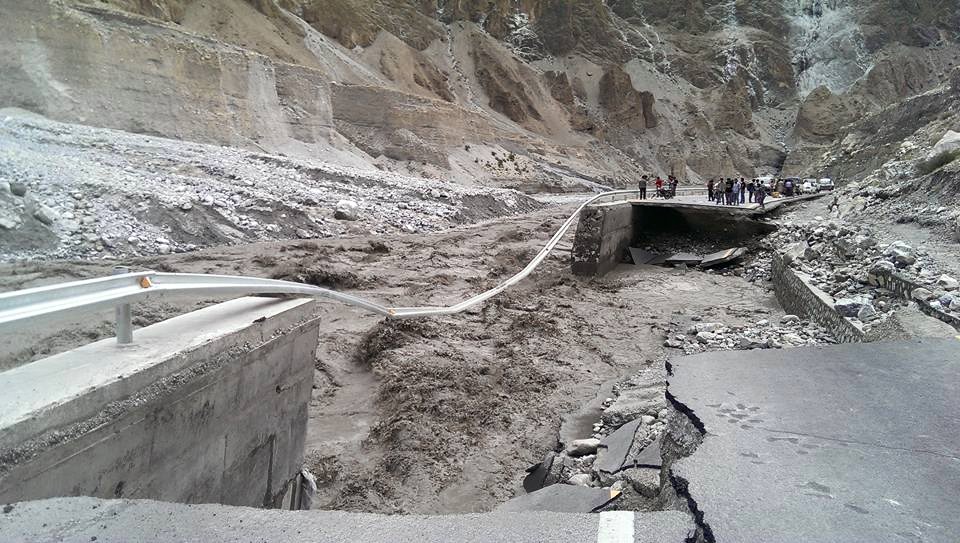 Hunza: Flashfloods have served a major blow to the infrastructure in Gojal Valley, Upper Hunza, by damaging roads, bridges and causing erosion in different valleys and villages. Power pylons have also been damaged at several locations, plunging the valley into darkness. According to Ghazi, an official of the Water and Power Department, the restoration work can start after the flooding has receded and the erosion has stopped.
In Chipursan Valley, adjacent of the Wakhan district of Afghanistan, a river was blocked for some time due to flooding in a glacial stream in the Rashit village. According to Haider Ali, a local, at least seven small and medium sized bridges have been washed away by floods in the valley.
A similar blockade also occurred between Khyber Village and Ghalapan due to a flashflood. The Khunjerab River was blocked for several hours two days back. A portion of the KKH near the Mir Skord was damaged, blocking traffic.
In Ayeenabad locality of Shishkat, machinery and equipment worth tens of millions of rupees were washed away or buried when a huge cloudburst cause a severe flood in the Burudubar stream. The machinery and equipment belonged to a Chinese company busy in construction of a major bridge extending from the Attabad tunnel complex.
There are reports about road blockades in Shimshal and Khunjerab Valley also.
The locals have urged the authorities to take appropriate measures to compensate the losses and start repair works on the roads and bridges.