Efforts to resolve Aliabad procession route issue underway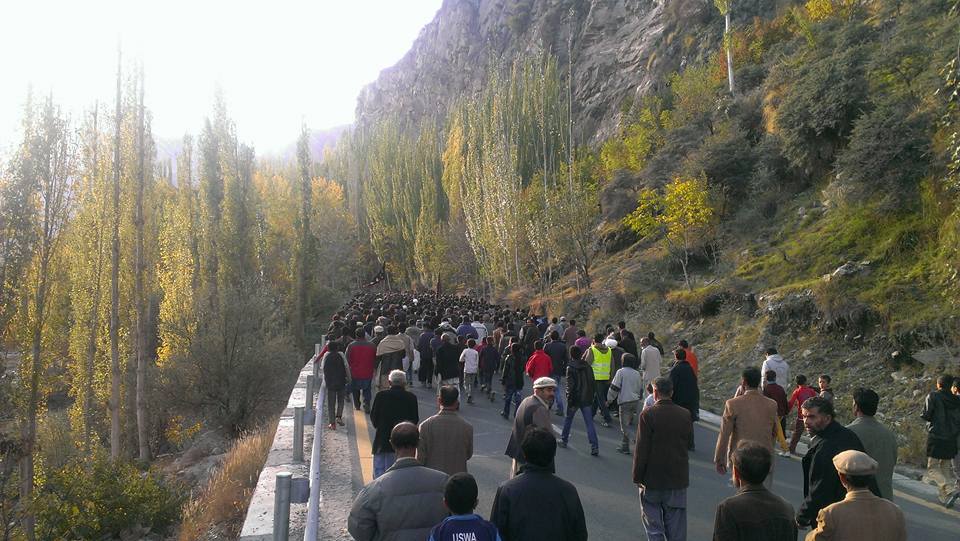 Gilgit/Aliabad: A sit-in was underway at the outskirts of Aliabad town of Hunza Valley after a collision between 8th Muharram procession participants and security forces. Participants of the procession originating from Garelt were stopped by security officials when they tried to go beyond the designated route. This led to a clash, and the security officials resorted to shelling tear gas canisters and aerial firing. Four people reportedly received injuries.
The participants of the procession then staged a sit-in at the outskirts of Aliabad, the largest town of Hunza, demanding permission for moving ahead to Masjid-e-Ali, located in the middle of Aliabad town. It is pertinent to note that the procession route has emerged as bone of contention in the otherwise peaceful Hunza Valley during the last couple of years. Efforts are underway to resolve the stand-off between the administration and scholars, leaders, from both sides.
The Hunza Valley is mainly home to two sub-sects of the Shia sect of Islam, while a small number of people following the Sunni sect are also present in some villages.
The Ismaili Regional Council has reportedly handed over a document to the leaders of the Ithan-Ashri sect, in which some suggestions have been made to amicably resolve the issue once and for all. The response of Agha Rahat Hussain Al-Hussaini is expected tomorrow, on Friday, after which a final settlement of the issue is being expected.
The GB government has indicated that Pakistan Army might be called in Hunza, if the issue is not resolved peacefully. The district administration has blocked the routes to Hunza Valley. Vehicles are not being allowed to enter or leave the district. Sarwar, a passenger, called Pamir Times to report that their vehicle was not being allowed beyond Murtazabad.
Meanwhile, leaders from both the Shia sects have appealed for peace and calm, while the administration officials and people responsible make efforts to come to a peaceful solution. Chief Minister Hafiz Hafeezur Rehman yesterday told the media that Army will be called for help, if there's a risk of deterioration of law and order situation.